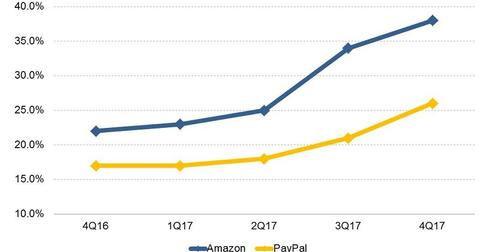 Understanding Amazon Bank—And PayPal's Dream
By Ruchi Gupta

Updated
Amazon and PayPal supply loans to customers
If it's true that Amazon.com (AMZN) is gearing up to launch a checking-account-like product, as has been reported recently, the company could be trying to tell PayPal (PYPL) to watch this space closely.
We already know that Amazon and PayPal compete in a number of areas, one of them being supplying loans to customers. Amazon and PayPal have each written roughly $3.0 billion in loans to their customers. Square (SQ), another company run by Twitter (TWTR), also supplies credit to its customers and has advanced more than $1.8 billion in loans.
Article continues below advertisement
Loans help boost customer retention
For Amazon, PayPal, and Square, supplying credit to customers is one good way to get customers to spend more with them, and it's also a way to deepen customer relationships and boost customer retention rates.
Perhaps Amazon's move into banking could escalate its competition with PayPal in the credit market. PayPal's revenues grew 26% YoY (year-over-year) in 4Q17, compared with the 38% YoY revenue growth at Amazon.
Becoming Amazon's payment processor
Besides being competitors in the credit market, PayPal has shown an interest in forging a partnership with Amazon as its payment processor. But Amazon's interest in rolling out a checking-account-type product seems to signal that the company doesn't view a payment deal with PayPal as a priority. Amazon is reportedly in talks with big banks such as JPMorgan Chase (JPM) and Capital One Financial (COF) for its checking account product idea.