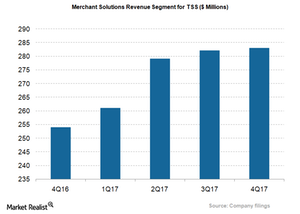 TSS: Merchant Solutions Segment Gains from Acquisition
By Aaron Hemsworth

Updated
Factors driving growth
The Merchant Solutions division of Total System Services (TSS) contributes ~32.0% of the company's total net revenues. This division reported strong growth driven by the holiday season as well as the greater adoption of its payment technology platform by its small and medium business partners. The successful integration of the US merchant solutions operator TransFirst also contributed to its revenue growth.
In the graph above, we can see the net revenue growth of the Merchant Solutions unit in the last five quarters. During the period, it grew at a CAGR (compound annual growth rate) of 2.7%.
In 4Q17, its segmental revenues came in at ~$283.0 million, up 11.4% YoY (year-over-year). For fiscal 2017, its revenues grew nearly 23.0% YoY to $1.1 billion. Its net revenue per transaction in 4Q17 was $0.23, up 1.8% YoY. In 2017, it grew 15.2% annually.
Article continues below advertisement
Acquisitions
In April 2016, TSS acquired TransFirst, which contributed ~$420.0 million in total revenues in 2017. Excluding postage and payment transaction fees, the net revenues reached $132.0 million. In 2017, the company was also ahead of its synergy target and generated $25.0 million in net revenues.
In January 2018, TSS completed the acquisition of Cayan, another global payment solution provider. The deal is expected to give access to more than 70,000 merchants, allowing TSS to strengthen its merchant payment network for small and medium businesses in the US.
In February 2018, Visa (V) acquired Fraedom, which could allow the company to expand its business-to-business payment market. In 2017, Mastercard (MA) also completed the acquisition of VocaLink, a bank account–based payment company.