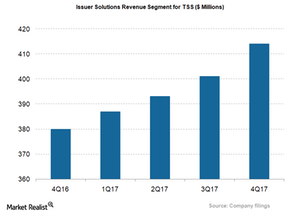 Total System Services' Issuer Solutions Unit Is a Key Division
By Aaron Hemsworth

Updated
Growth elements
The Issuer Solutions segment of Total System Services (TSS), which accounts for 47.0% of the company's total revenues, posted solid revenue growth in 4Q17. During the quarter, the Issuer Solutions segment's net revenues totaled $414.0 million, an 8.9% YoY (year-over-year) increase. In fiscal 2017, the segmental business grew 5.2% YoY to nearly $1.6 billion.
In the graph above, we can see the net revenue growth of the Issuer Solutions division in the last five quarters. During this period, it grew at a CAGR (compound annual growth rate) of 2.7%.
Article continues below advertisement
Strong growth in Accounts on File (or AOF), which was triggered by the record increase in traditional accounts, has led to improved revenues for both 4Q17 and fiscal 2017. Solid growth in transaction volumes, driven by the holiday season and coupled with the extension of the long-term deal with Capital One, also contributed to the segment's revenue growth.
Growth drivers
In fiscal 2017, Total System Services' (TSS) Issuer Solutions unit renewed 17 contracts and inked numerous new deals, including leading UK retailer Sainsbury's. At the end of 4Q17, total traditional AOF stood at nearly 572.0 million. 
In fiscal 2017, the unit added nearly 50.0 million accounts versus 41.6 million accounts in 2016. Strong growth in consumer AOF has triggered its traditional AOF growth. Total AOF in fiscal 2017 came in at 847.6 million versus 793.1 million in fiscal 2016.
In fiscal 2017, the segment's volume-based revenues improved 6.0% annually. Its non-volume-related business grew 5.0% YoY, primarily driven by a 9.0% YoY increase in value-added services. Total transactions in 4Q17 came in at nearly 4.9 billion, up 12.0% YoY. In fiscal 2017, its total transactions grew 9.0% YoY to 21.6 billion.
Visa (V) reported a 10.0% YoY increase in payment volumes on a constant currency basis for its first quarter, which ended in December 2017.