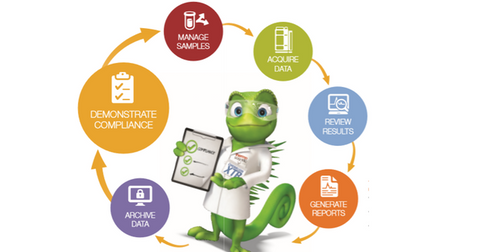 TMO's Advanced Laboratory Management System Could Gain Market Share
By Sarah Collins

Updated
Overview
On February 27, 2018, Thermo Fisher Scientific (TMO) announced the launch of the new Thermo Scientific Chromeleon XTR Laboratory Management system, which was designed to manage an entire laboratory. The software has the ability to support data integrity, process adherence, and regulatory compliance.
The system provides enhanced data software capabilities like sample management and data archiving as compared to the traditional CDS (chromatography data systems). It's designed for continuous 24/7 operation with no downtime.
Article continues below advertisement
Key system features
The key features of the Thermo Scientific Chromeleon XTR Laboratory Management system are data integrity, automatically generated barcoded labels, vendor-independent bi-directional instrument communication, eWorkflows, SmartLink intelligent data visualization, and dynamic data updates.
The system's data integrity feature ensures that the analysis is performed by personnel. Sample tracking in the entire laboratory is enabled by the barcoded labels automatically generated by the system. The system supports productivity with minimal error incidences in standard procedures and requires less post-analysis user time.
The system can store the data long-term in a vendor-neutral format and offers data capturing capabilities not only for chromatography but for other analytical techniques as well.
Management's comments
According to David Leitham, vice president and general manager of chromatography and mass spectrometry software at Thermo Fisher Scientific, "We are committed to the development of innovative systems that enable customers to advance their research while meeting increasingly stringent regulations essential for compliance. The ability to demonstrate data governance and data integrity has become increasingly important to customers. The Chromeleon XTR now offers comprehensive compliance tools to provide our customers with peace of mind while they focus on their research."
Some of the other laboratory management systems on the market include Illumina's (ILMN) Clarity, Agilent's (A) ChemStation, MassHunter software, and Abbott's (ABT) Starlims.