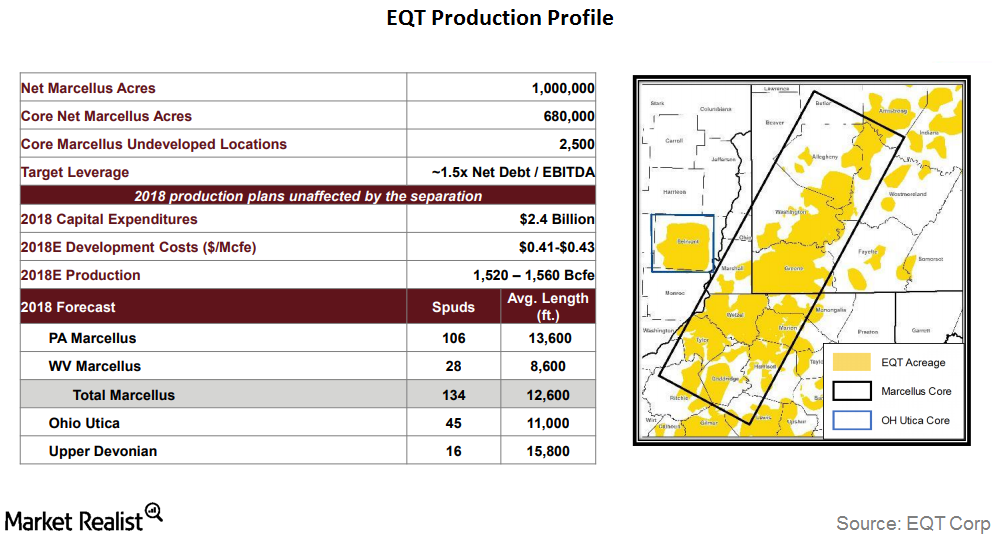 The New and Improved EQT: Synergies from the Midstream Separation
By Keisha Bandz

Dec. 4 2020, Updated 10:52 a.m. ET
EQT's production profile
As we've been discussing, with the Rice deal, EQT Corporation (EQT) is now the largest natural gas producer in the United States. The company now has 680,000 core Marcellus acres (with 2,500 undeveloped locations) and 65,000 core Utica acres.
Article continues below advertisement
Operational forecasts
The company noted that its 2018 production growth target of 17% would be unaffected by the separation. The production guidance range provided by the company for 2018 is 1,520 Bcfe, or 1,560 Bcfe (billion cubic feet equivalent).
EQT (EQT) believes that after the Rice acquisition, capital efficiencies brought about by drilling longer laterals and lower costs will result in economic savings with a PV (present value) of $1.9 billion. G&A (general and administrative) expenses are expected to see a reduction at least for the next ten years, resulting in economic savings of PV $0.6 billion.
Apart from these "base synergies" EQT expects also to realize upside synergies. The additional benefits or synergies the company expects to see by combining EQT and Rice's best drilling and completion techniques include EUR (estimated ultimate recovery) improvements of 0%–5%, resulting in savings amounting to $2.5 billion.
EQT also noted in its press release that increased leverage in acquiring drilling and fracking services would be worth $300 million for every 1% improvement in its service costs.
Other synergies resulting from the combination include marketing optimization, upstream lease operating expenses optimization, and the acceleration of its midstream projects (Mountain Valley Pipeline or MVP).