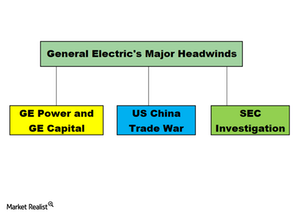 The Major Headwinds Facing General Electric
By Samuel Prince

Updated
GE Capital
On March 25, 2018, the Wall Street Journal released an article about General Electric's (GE) Capital segment. Investors should recall that GE Capital was once an enormous lending business of its parent with $600.0 billion in assets during its peak years. Thomas Gryta and Ted Mam of the Wall Street Journal pointed out another area of uncertainty faced by General Electric today, and it relates to the residual risks related to the GE Capital business.
Article continues below advertisement
Neuberger Berman's senior research analyst Martin Sankey commented, "It is not fully known what residual risks GE retained when it dismantled GE Capital. The question becomes, does GE Capital have any value at all." What bothers investors is that GE Capital has a $3.1 billion exposure to floating-rate Polish residential mortgages. Also, along with the legacy insurance policies, the capital arm is also exposed to subprime mortgages in the United States.
US-China trade war
It seems the series of bad news for General Electric has no end. President Donald Trump has opened the door to a possible trade war with China after unveiling his tariff plans for certain items. China seems to be proceeding extremely cautiously, with solid preparedness for retaliation. China's machinery and electronics exports to the United States totaled $262.0 billion in 2016. General Electric has diversified operations around the world and has substantial exposure to emerging markets, particularly China. The company is likely to be hurt in the event of a full-fledged trade war with China.
Article continues below advertisement
However, GE wouldn't be the only company to lose in a US-China trade war situation. In February 2018, GE was in the third position in terms of stock value loss in the Dow Jones Industrial Average (IYJ). Boeing (BA) was the company with the biggest loss, followed by DowDuPont (DWDP). Caterpillar (CAT) followed GE with a 7.5% loss in the month.
SEC investigation
During its 4Q17 conference call, General Electric revealed an SEC (Securities and Exchange Commission) investigation into its accounting practices. The company informed investors of a review of its GE Capital insurance portfolio. It also announced a related $6.2 billion after-tax charge in 4Q17.
If the company agrees to redesign its accounting methods as per the SEC's directions or agrees with the SEC, then the uncertainties hovering around its accounting practices could end. This, in turn, could result in GE's stock bottoming out.
Is General Electric's new dividend, which it's slashed 50%, in danger? Keep reading.