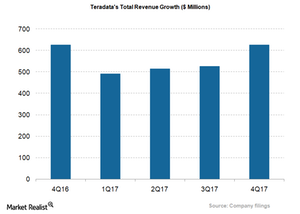 Teradata: Adapting to a Change in Its Business Model
By Aaron Hemsworth

Mar. 29 2018, Updated 7:32 a.m. ET
Major headwinds
Teradata Corporation (TDC) faces ongoing challenges as it moves toward a subscription-based model from its traditional upfront payment model. This change in its business policy pressures the company's upfront revenue stream. Moreover, the company's revenue growth is also affected by softness in the American segment.
In the graph above, we can see the revenue growth in the last five quarters for Teradata. During this period, it grew at a CAGR (compound annual growth rate) of 2.9%.
Article continues below advertisement
Teradata posted flat revenue growth in fiscal 4Q17 compared to fiscal 4Q16 due to a change in its business model. In 4Q17, its revenues came in at $626.0 million, flat YoY (year-over-year). However, on a constant currency basis, its revenues fell 2.0% YoY. In fiscal 2017, its revenues came in at $2.2 billion, down 4.0% YoY on a GAAP and constant currency basis.
Analysts' estimates and guidance
Of the 22 analysts covering Teradata stock, one recommended a "strong buy" and one recommended a "buy." Twelve analysts gave "hold" recommendations, five gave "underperform" recommendations, and the remaining three gave "sell" ratings. The average net revenue estimate provided by the analysts for 1Q18 is $495.9 million, while the average net revenue estimate for fiscal 2018 is ~$2.2 billion.
Teradata projects its total revenues in fiscal 1Q18 to be $490.0 million–$500.0 million. For fiscal 2018, its total revenues are anticipated to be $2.15 billion–$2.20 billion.