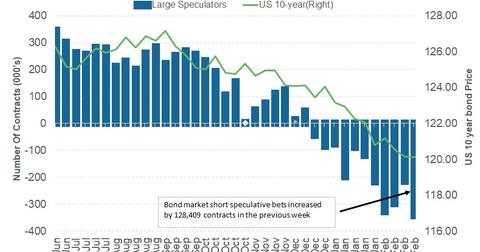 Tariff-Related Volatility Could Impact Bond Markets
By Ricky Cove

Updated
Tariffs threaten bond markets
US bond markets were on a roller coaster ride last week. Bond markets were impacted by Fed Chair Jerome Powell's testimony. The news about possible tariffs from President Trump also impacted bond markets. Both of the events were negative for bond markets. Yields increased across the board. Powell sounded unambiguously hawkish in his testimony, which increased the possibility of more rate hikes. Powell corrected himself when he spoke for a second time last week, which didn't reverse the damage. The Vanguard Total Bond Market ETF (BND) tracks bond markets' performance. BND ended the previous week at 79.37 and posted a minor loss of 0.26% for the week ending March 2.
Article continues below advertisement
Bond market's performance and speculators' positions
For the week ending March 2, the ten-year yield (IEF) tested 2.9% after Powell's hawkish comments. However, IEF settled at 2.9% at the end of the week. The two-year yield (SHY) closed at 2.2%, while the longer-term 30-year yield (TLT) closed at 3.1%.
According to the latest Commitment of Traders report released on March 2 by the Commodity Futures Trading Commission, speculators' short positions increased for the first time in three weeks. The total net bearish positions as of February 27 increased by 128,409 contracts from 214,480 contracts to 342,889 contracts. Short positions' return could be a sign that traders expect more gains in US bond yields (BSV).
Bond markets this week
Bond market investors' focus will likely be on the repercussions from the tariffs, despite the jobs report scheduled for Friday. The markets think that the Fed will increase interest rates at its March meeting in two weeks. The major concern would be retaliation from the United States' trading partners. The biggest threat is from China, which already threatened to stop buying US bonds. If China's threat turns into a reality, the bond markets could slide more.