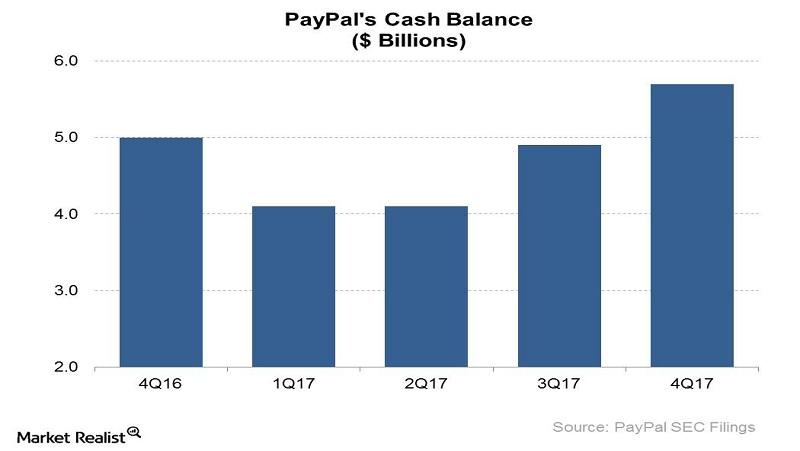 Synchrony Deal Added $0.25 to PayPal's Earnings
By Neha Gupta

Nov. 20 2020, Updated 5:30 p.m. ET
PayPal seeking to free up cash
PayPal (PYPL) is on track to close the sale of a large portion of its credit business to Synchrony Financial (SYF) in 3Q18. It's eyeing a July 1 closing date, if all goes well.
In November 2017, PayPal announced that it decided to sell its US consumer loan business to Synchrony, saying that the move would help it free up funds it could invest in businesses that it deems more crucial to its future. PayPal closed 4Q17 with cash holdings of $5.7 billion, representing an increase of 12.3% YoY (year-over-year). Amazon's (AMZN) cash holdings increased 19.2% YoY in 4Q17, while Fiserv's (FISV) cash holdings increased 8.3% YoY that same quarter.
Article continues below advertisement
A boost to earnings
PayPal's loan transaction deal with Synchrony resulted in a boost to its earnings in 4Q17 due to one-time adjustments related to held-for-sale accounting, according to the company. PayPal recognized a $0.25 boost to its GAAP (generally accepted accounting principles) EPS (earnings per share) in 4Q17 as a result of the loan transaction deal. At the same time, PayPal recognized a loss of $0.15 per share due to changes to the US tax law. As a result, PayPal posted EPS of $0.50 in 4Q17.
PayPal not ditching credit business
Something important to note about PayPal's sale of its loan business to Synchrony is that the company is actually not getting out of the credit business. It's only selling its US loan business for strategic reasons while keeping its international credit business intact.
PayPal, Square (SQ), Amazon, and Alibaba (BABA), which are all e-commerce and payment providers, have come to view providing loans to customers as crucial to their core operations. Loans seem to be helping them nurture a loyal base of customers.