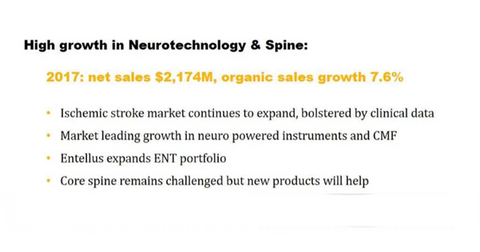 Stryker's Ischemic Stroke Market Expands on FDA Update
By Sarah Collins

Updated
Overview
On February 15, 2018, Stryker (SYK) announced that the FDA had provided an expanded indication for its Trevo Clot Retriever. Trevo can now be used as a frontline treatment for acute ischemic stroke patients from the onset of the stroke symptoms for up to 24 hours. Previously, the FDA had approved the use of Trevo in ischemic stroke patients for up to six hours from the onset of symptoms. 
The expanded indication will allow Stryker to tap the additional population of patients who had been unable to get the Trevo treatment due to the higher duration of ischemic stroke condition persistence. It accelerates the company's 2018 growth strategy for the expansion of its Neurotechnology segment.
Article continues below advertisement
Stryker's Trevo Retriever was approved by the FDA and launched in 2012. It aids in the minimally invasive procedure for the treatment of acute ischemic stroke in patients. The product is now the first and only clot-retriever device in the market for FDA clearance for use up to 24 hours from the onset of the stroke symptoms.
Details of the study that led to FDA indication expansion
The indication expansion of Stryker's Trevo Retriever by the FDA was based on the DAWN trial. The study consisted of 206 ischemic stroke patients, out of which 107 were in the stent retriever group, and the remaining 99 were in the control group. The patients were treated with Trevo Retriever between six hours and 24 hours from the onset of stroke symptoms. As per the study's results, ~48% of the stent retriever group of patients were functionally independent after 90 days of the stroke's incidence compared to 13% of functionally independent patients in the control group after the same period.
Medtronic's (MDT) Solitaire and Johnson & Johnson's (JNJ) Revive SE are two similar mechanical thrombectomy devices used for the treatment of ischemic strokes. While Solitaire is approved for use in the United States, Revive SE is currently not available in the United States. In terms of preventive treatments, Abbott Laboratories' (ABT) Amplatzer is one of the other devices used to lower the risk of ischemic stroke in patients.