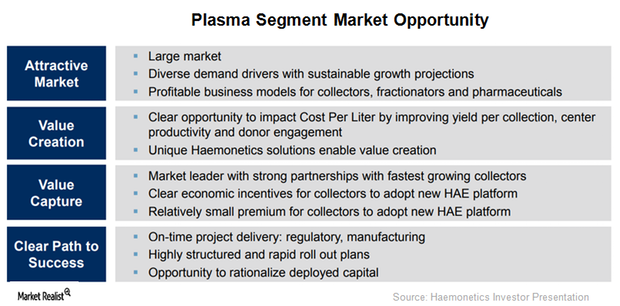 Plasma Remains an Attractive Business for HAE
By Margaret Patrick

Mar. 20 2018, Updated 10:32 a.m. ET
Plasma business trends
In fiscal 2017, Haemonetics (HAE) earned almost 46% of its total revenue from its plasma franchise. The company has earned ~48.4% of its total revenue from its plasma franchise YTD (year-to-date) in fiscal 2018.
In fiscal 2017, the company earned almost 21% of its plasma franchise revenue from markets outside the United States. Approximately 91% of the plasma segment's total revenue in fiscal 2017 was attributable to the sale of disposables.
Article continues below advertisement
The above diagram shows the key factors that have made the plasma business an attractive growth opportunity for Haemonetics. The plasma-collection business has enabled Haemonetics to compete effectively with other medical device players such as Stryker (SYK), Abbott Laboratories (ABT), and Medtronic (MDT).
Plasma collection drivers
The increasing demand for immunoglobulin in areas such as neurology and immune deficiencies has been a key growth driver for plasma collection. Additionally, the demand for coagulation factors in areas such as hemophilia, congenital and acquired factor deficiencies, A1PI and ATIII in areas such as A1Pi genetic disorders and acquired clotting disorders, and albumin in areas such as blood volume replacement for trauma and surgery, sepsis, and burn therapy, has also driven the growth of the overall plasma market.
Article continues below advertisement
IgG-based therapies are the most commonly used treatment options for chronic conditions such as chronic inflammatory demyelinating polyneuropathy (or CIDP) and primary immunodeficiency (or PID). With increasing levels of physician and patient awareness, there have also been improvements in the diagnosis rates for these conditions, subsequently leading to further market developments for IgG-based therapies. 
When a therapy proves effective in patients suffering from these chronic conditions, it's generally continued for the entire lifetime of the patient. Additionally, early diagnosis of the conditions and longer patient lifespans are being translated into even longer treatment horizons with these IgG-based therapies.
Beyond this, there's been a shift from the use of intravenous (or IV) therapies to higher dosages and higher-frequency subcutaneous administration of IgG-based drugs. This coupled with improving reimbursement levels across the world have helped to drive demand for plasma collection.
In the next article, we'll discuss Haemonetics's competency in the plasma business in greater detail.