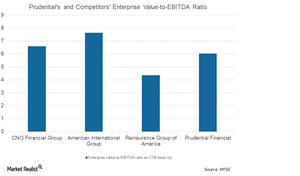 Performance of Prudential Financial's Life Planner Operations
By Raymond Anderson

Mar. 6 2018, Updated 9:01 a.m. ET
Components
Prudential Financial's (PRU) International Insurance division is comprised of two verticals:
Life Planner operations
Gibraltar Life and other operations
The Life Planner operations generated adjusted operating income of $1.49 billion in 2017 compared to $1.53 billion in 2016, a decline of $46 million. The decline was due to the negative impact of $32 million in currency fluctuations.
In 2017, these operations witnessed a net charge of $67 million due to changes in assumptions and other items as well as annual reviews. In 2016 and for the same reasons, the net charge was $38 million. If the impact of both items discussed is not considered, the adjusted operating income from its Life Planner operations rose $15 million, mainly because of the positive momentum in its operations in Brazil and Japan. However, net investment results and policyholder experience were also major contributors.
Article continues below advertisement
Benefits and expenses
Life Planner operations had benefits and expenses of $9.1 billion in 2017 compared to $8.4 billion in 2016. Total revenues for the International Insurance division in 2017 were $21.5 billion compared to $21 billion in 2016. Of the $21.5 billion, Life Planner operations contributed $10.6 billion.
Prudential Financial's EV-to-EBITDA (enterprise value to earnings before interest, tax, depreciation, and amortization) ratio was 6.0x on an LTM (last-12-month) basis. The ratios for CNO Financial Group (CNO), American International Group (AIG), and Reinsurance Group of America (RGA) were 6.59x, 7.65x, and 4.35x, respectively, on an LTM basis.