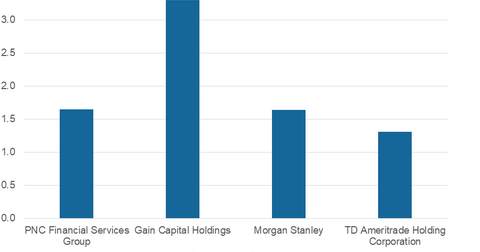 Key Insights from TD Ameritrade's Institutional Survey
By Raymond Anderson

Updated
Trusting financial advisors
TD Ameritrade Holding (AMTD) conducted a survey that revealed that many Americans are unaware of the impact the new US tax law could have on them. According to the survey, they're placing their trust in financial advisors with respect to those impacts.
The survey included 1,000 investors with a minimum of $10,000 invested in assets. They were asked their views on the Tax Cuts and Jobs Act and measures they might adopt in response to it and the impact the new law could have on the economy.
Article continues below advertisement
Management views on the survey
Of all the investors who participated in the survey, only 25% are aware of the impacts the Tax Cuts and Jobs Act might have on them, and 17% are not at all aware of the impacts. According to TD Ameritrade Institutional management, investors seem to be relying on sources they trust.
The dividend yield of TD Ameritrade was 1.3% on an LTM (last-12-month) basis. Dividend yields on an LTM basis for peers PNC Financial Services Group (PNC), Gain Capital Holdings (GCAP), and Morgan Stanley (MS) are 1.7%, 3.3%, and 1.6%, respectively.