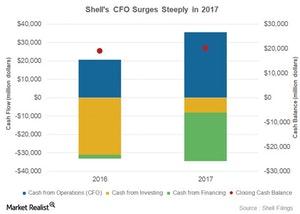 Is Shell's Surplus Cash Flow Why It Withdrew Scrip Dividend?
By Maitali Ramkumar

Mar. 14 2018, Updated 6:31 a.m. ET
Shell's cash flow
In 2017, Royal Dutch Shell's (RDS.A) cash flow from operations stood at $35.7 billion, rising from $20.6 billion in 2016. Its cash outflow from investing stood at $8 billion in 2017 compared to $30.9 billion in 2016, which included costs related to the BG Group acquisition. Also, in 2017, cash outflows from financing were $26.4 billion due to net debt outflows and dividend outflows.
Article continues below advertisement
Shell's cash flow surplus
In 2017, Shell generated $35.7 billion in cash from operations but had a cash outflow of $20.8 billion in the form of capital expenditure and $10.9 billion in the form of dividends, amounting to a total of $31.7 billion of cash outflow.
That resulted in a cash flow surplus of $3.9 billion (the difference between cash inflow of $35.7 billion and cash outflow of $31.7 billion). Shell also had divestment proceeds of $10.9 billion in 2017.
So from this additional cash, Shell made a partial debt repayment and interest payment. It also saw a rise in its cash reserves. Its cash balance rose from $19.1 billion at the beginning of 2017 to $20.3 billion at the end of 2017.
Peers' cash flow surpluses or shortfalls
If we estimate Shell's surplus as a percentage of its earnings capacity, in terms of cash flow from operations it will be 11%. That's the highest among its peers. Comparatively, ExxonMobil (XOM) had a surplus of 6% in 2017. However, Chevron (CVX) and BP (BP) had shortfalls of 5% and 22%, respectively, in 2017.
What Shell's cash flow implies
When a company swings from a cash flow deficit in 2016 to a huge surplus in 2017, it's a favorable sign. In 2017, Shell could repay debt, pay interest, and raise its cash reserves, which would be a positive sign and also a likely reason for it to consider canceling its scrip dividends and buybacks.
Shell's strategy has started materializing, and if it continues, it could presumably further augment its cash flows. That would help it achieve its target of organic free cash flows of $25 billion–$30 billion per annum from 2019–2021, assuming an average oil price of $60 per barrel.