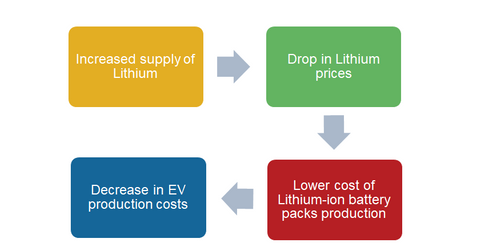 How Tesla Benefits from Chile's Increased Lithium Quota
By Jitendra Parashar

Mar. 14 2018, Updated 2:45 p.m. ET
US lithium imports
According to 2017 production data, Chile was the second-largest lithium producer in the world after Australia. According to a recent report by USGS (United States Geological Survey), Chile accounted for ~49% of America's lithium imports, followed by Argentina with 48%.
Let's take a look at how a recent development in Chile could benefit electric vehicle (or EV) makers such as Tesla (TSLA).
Article continues below advertisement
Chile's lithium quota
According to a recent Reuters report, Chile's government has allowed US miner Albemarle to increase its lithium production quota to 140,000 tons per year from a range of 60,000–80,000 tons per year.
Albemarle sought Chile's government's approval for the production quota expansion in 2017. A jump in Albemarle's production quota doesn't directly benefit EV makers, but the move is likely to increase the supply of lithium, which should result in lower prices for the commodity, resulting in reduced costs for the lithium-ion batteries used in EVs.
Cost factors
According to a Bloomberg report, batteries account for ~50% of the costs involved in EV production. A decrease in the price of lithium-ion batteries should significantly lower EV manufacturing costs, which could reduce the prices of EVs and also improve automakers' profitabilities.
Earlier this year, Reuters reported that Tesla has been in talks with Chile-based Lithium miner company SQM lately. Tesla plans to buy high volumes of lithium from SQM, which is the world's largest lithium producer at the moment.
Note that the high costs involved in manufacturing EVs have been puzzling mainstream automakers (FXD), including Fiat Chrysler Automobiles (FCAU), General Motors (GM), and Ford Motor Company (F). A drop in lithium-ion battery prices due to a higher supply of lithium could help EV makers going forward.