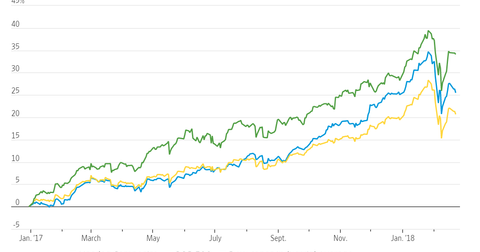 How Microsoft, Amazon, and Netflix Helped NASDAQ Outperform
By Anne Shields

Updated
Tech sector's dominance enabled NASDAQ to outperform
Earlier in the series, we discussed the tech sector's (QQQ) outperformance and contribution to the S&P 500's (VOO) advances in 2017 and 2018 to date. The tech-heavy NASDAQ Composite Index (NDX-INDEX) outperformed other indexes in 2018 to date. The below presentation shows NASDAQ's performance in comparison to the S&P 500 and DJIA (Dow Jones Industrial Average). It was the tech stocks' dominance that helped NASDAQ outperform other indexes in 2018 to date.
Citing Emerging Portfolio Fund Research data, the Wall Street Journal reported that ETFs and global mutual funds that tracked technology stocks "also attracted the biggest investor inflows of all sectors for the week through February 14."

Article continues below advertisement
NASDAQ heavily influenced by surge in AMZN, MSFT, and NFLX stocks
The surge in Amazon (AMZN), Microsoft (MSFT), and Netflix (NFLX) stocks has enabled the rally in the tech sector to continue. Amazon partnered with Berkshire Hathaway (BRK) and JPMorgan Chase to cut down workers' healthcare costs. Amazon, which released its fiscal 3Q18 earnings in early February 2018, saw its quarterly profits top $1 billion for the first time. Record holiday sales helped the company to report stellar profits and boosted Amazon's stock, which is up 28.3%.
With each passing fiscal quarter, Microsoft is showing its dominance in the competitive and consolidated cloud space, which has helped it regain its position in the tech industry even as global sales of PCs (personal computers) have slowed. Microsoft stock is up ~10% this year to date. Netflix's investments in original shows have helped the company to claim new subscribers at a record rate in 4Q17. As a result, Netflix's stock is up 49% this year.
NASDAQ is a market-cap-weighted index, which means that companies with the largest market cap exert the maximum influence on the overall index's movements. As it is a tech-heavy index, the surge in the above three stocks helped the NASDAQ Composite Index to outperform.