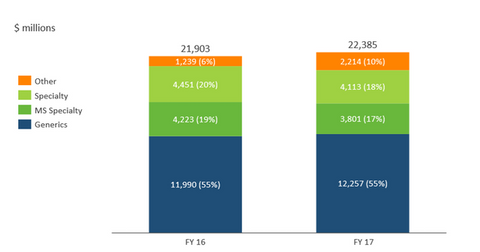 How Is Teva Progressing with Its Specialty Assets Portfolio?
By Sarah Collins

Updated
Teva's specialty assets portfolio
Teva Pharmaceutical (TEVA) is focused on advancing its specialty assets portfolio, one of its key growth drivers. The company's specialty products portfolio is made up of Copaxone, Austedo, Fremanezumab, and a number of other assets that are in clinical trials, one of which is Fasinumab.
In fiscal 4Q17, the company registered a fall in its Specialty Medicines segment's revenue due to generic competition for its Copaxone drug. However, Austedo, Fremanezumab, and potential specialty assets in clinical trials, such as Fasinumab, are expected to be the key growth drivers for the company going forward, while Copaxone sales are expected to stabilize.
Specialty assets contributed ~35% to the company's total sales in fiscal 2017. However, the contribution of these assets to the company's total profits came in at ~60%.
Article continues below advertisement
Austedo
In August 2017, Teva announced the FDA's approval of Austedo for the treatment of the movement disorder tardive dyskinesia in adults. In April 2017, Austedo received FDA approval for use for the treatment of chorea, another movement disorder associated with Huntington's disease. Teva's Austedo is the second FDA-approved drug for tardive dyskinesia treatment in adults following the approval of Neurocrine's (NBIX) Ingrezza in April 2017.
Further, the company is doing clinical trials for the use of Austedo for the treatment of Tourette's syndrome in children in partnership with Nuvelution Pharma. The expanded indication for the disease is expected to help increase the growth potential of the asset in the market.
According to Teva, Austedo is expected to generate sales of $200 million in fiscal 2018. In fiscal 4Q17, the drug's sales came in at ~$17 million.
Fremanezumab
One of Teva's most promising specialty assets is the migraine drug Fremanezumab. It's currently under FDA review with fast-track status, and it's also under EMA (European Medicines Agency) review. The drug was accepted for review by the EMA in February 2018 and by the FDA in December 2017.
Let's discuss this drug in more detail in the next article.