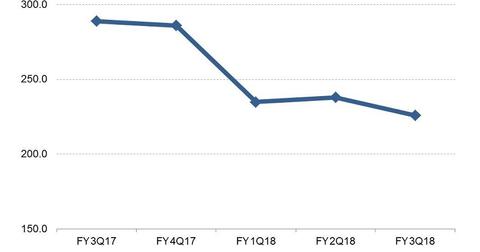 How Facebook Views Blackberry's Patent Lawsuit
By Ruchi Gupta

Mar. 13 2018, Updated 8:01 a.m. ET
BlackBerry issue could affect over 4.0 billion Facebook users
Facebook (FB) disagrees with BlackBerry's (BB) claims in the latter's recent patent infringement lawsuit that many features of FB's social media services were copied from BlackBerry Messenger.
Describing Facebook as a relative latecomer to the mobile messaging business in a lawsuit filed in US federal court in Los Angeles, BlackBerry alleges that Facebook's mobile messaging services such as WhatsApp and Instagram have infringed on its patents related to features such as cross-platform notifications and the display of time stamps on messages.
Article continues below advertisement
Facebook acquired Instagram in 2012 for $1.0 billion, and it acquired WhatsApp in 2014 for $19 billion. Instagram and WhatsApp have nearly 2.0 billion monthly active users between them. Facebook's namesake flagship app, which BlackBerry also cited as a violator of its patents, closed 4Q17 with more than 2.1 billion monthly users. So the BlackBerry issue could affect more than 4.0 billion people who use Facebook's digital services.
Facebook intends to fight
But Facebook reads the lawsuit as BlackBerry looking to tax the innovation of other companies after abandoning its own efforts to innovate. BlackBerry once dominated the smartphone market before it was elbowed by Apple and Samsung (SSNLF).
Facebook said it was ready to face off with BlackBerry in court over the patent infringement claims, according to the Wall Street Journal.
Protecting shareholder value
At BlackBerry, suing Facebook over alleged patent violations is portrayed as protecting shareholder assets. Facebook also believes that fighting off BlackBerry's patent allegation is a way of protecting its own value for its investors.
BlackBerry's revenues dropped 21.8% YoY (year-over-year) in the quarter ended November 2017, or fiscal 3Q18. Facebook registered a 27% YoY (year-over-year) increase in revenues in the quarter ended December 2017. Revenues rose 24% YoY at Google parent Alphabet (GOOGL), 72% at Snapchat parent Snap (SNAP), and 2.0% at Twitter (TWTR) in the quarter ended December 2017.