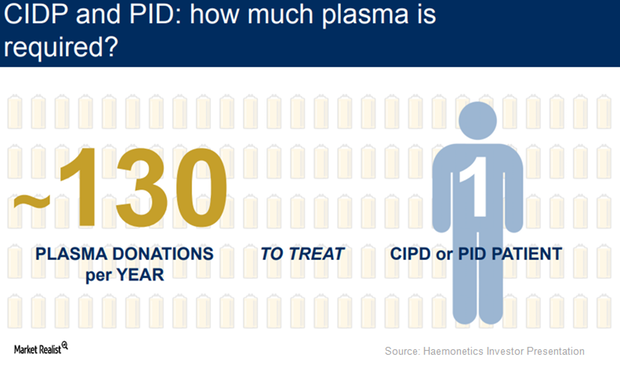 HAE Is Well Placed to Compete in Plasma Collection in Fiscal 2018
By Margaret Patrick

Mar. 21 2018, Updated 7:31 a.m. ET
Plasma-collection competency
Haemonetics (HAE) is focused on initiating the commercial launch of its innovative NexSys PCS device coupled with its embedded firmware, NexLynk DMS, in 2H18. The company expects to submit a 510(K) to the FDA and secure a CE mark in Europe for the software in fiscal 2018.
Although the combination of the NexSys PCS device and the NexLynk software is designed to result in a completely integrated and optimal bidirectional system, NexSys PCS supports an open architecture and can work with any other donor management software (or DMS).
Article continues below advertisement
NexLynk software, however, has been designed to work optimally with NexSys PCS, and it thus eliminates the need for the translation of data between the device and the software. Further, the entire integrated system is paperless and results in improved compliance, a lower risk of error, and improved center throughput.
Haemonetics has already installed NexLynk DMS at all of its US plasma collection centers for its largest plasma customer. The company also estimates that the majority of plasma collections in North America are currently being performed using Haemonetics's DMS system.
The above diagram shows that ~130 annual plasma collections are required for the lifetime treatment of one CIDP (chronic inflammatory demyelinating polyneuropathy) or PID (primary immunodeficiency) patient. Increasing patient life spans and early diagnosis of the disease imply that there may be an increase in the frequency of plasma donations required.
Haemonetics has estimated that the number of plasma collections in North America will grow at a CAGR (compound average growth rate) in the range of 6%–8% from 2012 to 2021. With NexSys and NexLynk DMS, Haemonetics plans to target this growing opportunity in the plasma-collection business. This disruptive innovation will enable Haemonetics to compete effectively with other medical technology players such as Medtronic (MDT), Stryker (SYK), and Abbott Laboratories (ABT) for investor attention.
Growth trends
Haemonetics has been witnessing increasing investment in fractionation capacity by its current and potential customers. This trend is expected to boost the number of Haemonetics's supported plasma collection centers from 400 in fiscal 2017 to over 600 by fiscal 2021. The company expects its plasma franchise growth to surpass that of the overall industry in the coming years.
In the next article, we'll discuss Haemonetics's hospital business in greater detail.