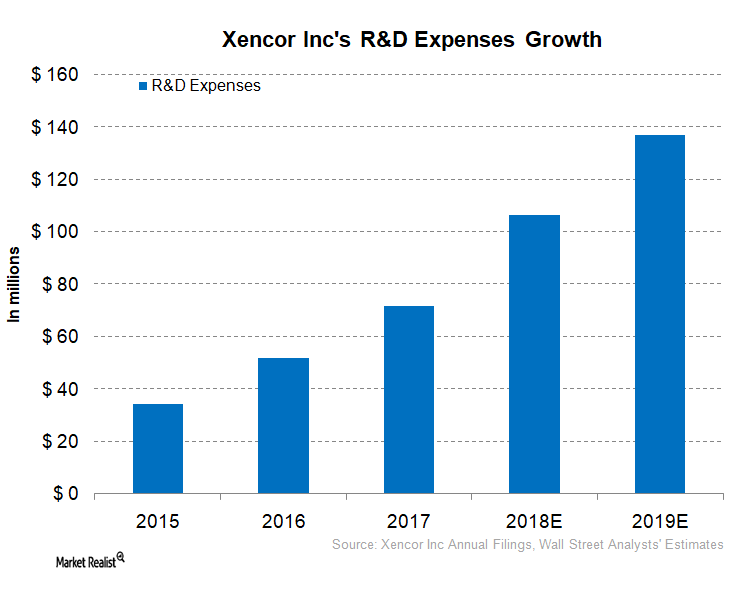 Exploring Xencor's Cash Flows
By Kenneth Smith

Mar. 26 2018, Updated 12:14 p.m. ET
Cash flows
Xencor (XNCR) used $33.6 million in operating activities in 2017. In 2016, the company generated $94.6 million from operating activities. This change was on account of increased operating expenses for advancing bispecific candidates and Phase 2 clinical trials for XmAb5871.
In 2017, Xencor generated $31.9 million from investing activities compared to its expenditure of $213.6 million in 2016. The company's investing activities mainly consist of the purchase and sale of marketable securities and the acquisition of intellectual property and equipment. In 2017, Xencor used $39.2 million in marketable securities. In 2016, it invested $210.6 million in marketable securities.
In 2017, Xencor generated $3.7 million from financing activities compared to $120.9 million in 2016. This cash flow consisted primarily of cash from stock option exercises.
Article continues below advertisement
Valuation metrics
Xencor's book value per share is $6, and its cash-to-share ratio is 4.72. Its price-to-sales ratio, a metric of the revenue generated for every share of the company, is 42.90. The company's quick ratio, a measure of how effectively it can meet its short-term obligations, stands at 2.30. Peers AbbVie (ABBV), Biogen (BIIB), and Novavax (NVAX) have quick ratios of 1.20, 2.10, and 2.80, respectively.
Future potential
Xencor's business strategy is based on the plug-and-play nature of its XmAb technology, and it allows the company to create new antibody drug candidates for internal development and licensing. It also allows the company to selectively license access to one or more of its XmAb technologies to pharmaceutical and biotechnology companies for use in their own proprietary antibodies with improved properties. Xencor's Fc technologies have been used to develop multiple product candidates.
Currently, a total of 11 antibody product candidates that are in clinical trials have been created with XmAb technology.