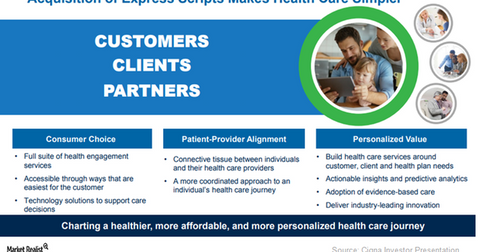 Could Cigna–Express Scripts Deal Be Earnings Accretive in Year 1?
By Margaret Patrick

Updated
Earnings-accretive acquisition
Cigna (CI) expects the acquisition of Express Scripts to boost the EPS (earnings per share) of the combined company in the double digits in the first full year after the transaction closes. Administrative efficiencies are expected to enable the combined entity to realize synergies greater than $600 million. Additionally, Cigna expects to generate higher savings in the long term by integrating medical and pharmacy services as well as other complementary platforms.
In 2017, Cigna's medical cost trend was 3%, while the pharmacy cost trend for Express Scripts was 1.5%. That is significantly lower than the medical cost trend anticipated for the health insurance and pharmacy benefits manager industry for 2017, which was close to 6%.
Article continues below advertisement
Business synergies
After the acquisition, the combined entity will have a new services business unit that's responsible for offering solutions in areas such as pharmacy, population health management, and mental health to other health plans, government organizations, and employers. After the acquisition, Cigna also expects to increase its annual customer touch points to more than 1 billion and enable customers the channel and type of care best suited to their needs.
The company has also planned to improve its relationships with healthcare providers and make the shift from sick care intervention to affordable personalized care. That will involve optimal use of preventive care for healthy patients or patients with higher-than-average risk, evidence-based care for patients suffering with chronic conditions, and access to centers of excellence and coordinated care for patients suffering with acute healthcare conditions.
The expanded portfolio of integrated medical, pharmacy, and specialty services is expected to enable Cigna to compete effectively with other health insurance players such as UnitedHealth Group (UNH), Aetna (AET), and Anthem (ANTM).
In the next part, we'll look at revenue and earnings growth prospects for the combined Cigna–Express Scripts entity.