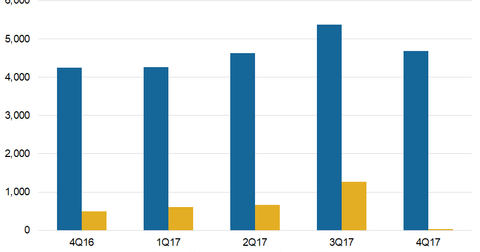 Berkshire Hathaway Energy: Growth in Electric, Natural Gas Utilities
By Robert Karr

Updated
Subdued performance
Berkshire Hathaway (BRK.B) holds a stake in utilities, marketing, and transmission businesses through its subsidiary, Berkshire Hathaway Energy (or BHE). BHE garnered revenues of $4.7 billion in 4Q17 for growth of 10.5%. For fiscal 2017, BHE's revenues grew to $18.9 billion from $17.9 billion in 2016, helped by growth in electric and natural gas utilities.
Berkshire Hathaway's energy businesses are not highly correlated with oil prices (USO). However, rising oil prices impact natural gas prices, negatively impacting input costs for utilities.
Article continues below advertisement
Higher costs of input
BHE posted earnings before taxes of $2.6 billion in fiscal 2017, down from $3.0 billion in fiscal 2016. The decline in earnings was due to the higher cost of sales of MidAmerican Energy Company and Northern Powergrid. As oil prices stabilize, Berkshire Hathaway's utilities can improve their operating margins.
However, any further steep rise in oil prices could negatively impact their performances. On the other hand, the profitability of the Natural Gas Pipeline business has improved for Berkshire Hathaway to $446.0 million in 2017 from $413.0 million in 2016.
Electric utilities, batteries, and natural gas–fired power stations have attracted the interest of alternative managers Carlyle (CG), KKR (KKR), and Blackstone (BX) in recent years.
PacifiCorp, NV Energy
Berkshire Hathaway's major contributors, including PacifiCorp and NV Energy, expanded their revenues and net earnings on higher demand, consumption, and controlled cost of input. Other energy businesses and real estate brokerage demonstrated relatively flat performance in terms of generating operating cash flows.
In 2018, BHE's performance would depend primarily on the ability of utilities to pass on the cost of higher natural gas prices and further investments in the value chain of natural gas and electric utility businesses.