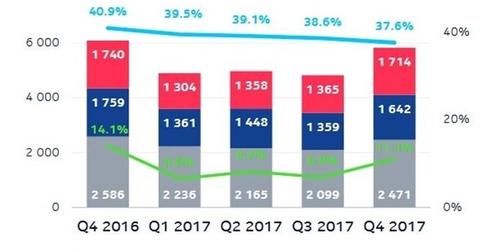 Behind the Nokia–Deutsche Telekom 5G Research Project
By Ruchi Gupta

Updated
A 30-square-mile site
Nokia (NOK) is collaborating with Deutsche Telekom (DTEGY) and Hamburg Port Authority on a two-year 5G (fifth-generation) research project. Deutsche Telekom is a telecom (telecommunications) company headquartered in Bonn, Germany. In terms of revenue size, it's the largest telecom provider in Europe. Deutsche Telekom is the parent of US telecom provider T-Mobile (TMUS), which last year tried to merge with its rival Sprint (S), which is backed by SoftBank (SFTBF).
Hamburg Port Authority operates the Port of Hamburg, which is both a logistics hub and a tourist attraction.
Article continues below advertisement
In February, Nokia, Deutsche Telekom, and Hamburg Port Authority commissioned a 30-square-mile site that they will utilize to carry out tests of various aspects of 5G applications. Network slicing is among the 5G functionalities that the partners intend to study, with a view to gain knowledge and experience from 5G network applications in real-world situations.
Turin selected as second test bed
The project is expected to test the application of 5G technology in an industrial setting for use cases that range from traffic light management to data processing from mobile sensors.
The Port of Hamburg was selected as a test bed for the first 5G research project because it provides an environment that places different demands on a network. The partners intend to run further 5G research in an industrial setting in Turin, Italy.
Over 125 billion IoT devices
5G technology is expected to play an important role in the development of the IoT (Internet of Things), which could result in the increased deployment of telecom systems in industrial settings. By 2030, over 125 billion objects—ranging from vehicles to industrial machines—are expected to be connected to the Internet under the IoT, according to IHS Markit.
Nokia makes money primarily by selling telecom network equipment, a business that brought in 5.8 billion euros in revenue in 4Q17.