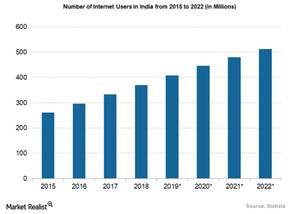 Behind the Google-Airtel Launch of Low-Cost Smartphones in India
By Sophia Nicholson

Updated
Google to bring low-cost smartphones
US technology giant Alphabet (GOOGL) has partnered with India's (INDA) telecommunications major Bharti Airtel to bring low-cost Android Oreo (Go edition) smartphones to consumers in the fast-growing Indian market.
In December 2017, Google announced its Android Oreo Go smartphones to target basic phone users in India, which stands second to China (MCHI) in the wireless services market.
Article continues below advertisement
Specifications of Android Oreo Go
Google's low-cost basic level smartphones will be made by handset makers Lava and Micromax. The Android-based smartphones will be already loaded with a new range of apps (applications), including MyAirtel App, Airtel TV, and Wynk Music, which can run smoothly using less data.
The 4G (fourth-generation) smartphone, which is part of Bharti Airtel's Mera Pehla Smartphone program launched in October 2017, will be available in March 2018. Google's launch of pocket-friendly smartphones in India makes sense since only a small percentage of the 1.3 billion population uses smartphones, thus giving immense opportunities for the technology giant.
Android Go (Oreo edition) is a lighter version of Google's Android Oreo OS that can run on devices with a low memory of 512 MB (megabyte) RAM (random access memory) that can be expanded to 1 GB (gigabyte) RAM. That's much lower than Google's other model, Pixel 2, which has 4 GB of RAM. Apple's (AAPL) iPhone X has 3 GB, while Samsung's (SSNLF) Galaxy Note 8 has a whopping 6 GB of memory.
According to news sources, Lava announced that its Android Oreo (Go edition)–powered smartphone Z50 will be available by mid-March. Lava did not disclose the price of the Z50. It will feature a 4.5-inch display, a 1.1 GHz (gigahertz) quad-core processor, 1 GB RAM, 8 GB internal space, and 5 MP (megapixel) rear and front camera with flash.