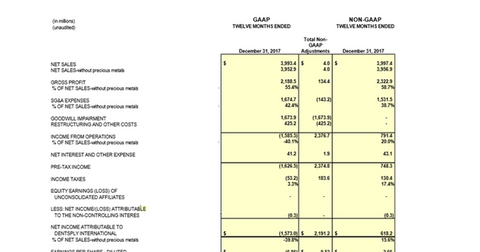 Behind Dentsply Sirona's Total Impairment Charges in 2017
By Sarah Collins

Updated
Dentsply Sirona's impairment charges in 2017
Dentsply Sirona (XRAY) updated its estimates and assumptions during fiscal 2Q17 and underwent an annual impairment test of goodwill. According to company estimates, the goodwill charges associated with some of its technologies segment businesses, including CAD-CAM imaging and its treatment center, came from impairment.
The company recorded nearly $1.1 billion in goodwill impairment charges in 2Q17 and $581 million in 4Q17, for a total of ~$1.67 billion in fiscal 2017.
Article continues below advertisement
Meanwhile, the company undertook an annual impairment assessment of indefinite-lived intangible assets. These assets largely consisted of acquired tradenames. The company saw an impairment charge of $79.8 million in 2Q17 and $266.9 million in 4Q17 related to the same. The total indefinite-lived intangible assets impairment charges thus came to $346.7 million in 2017.
Dentsply Sirona recorded a total non-cash impairment charge of $2.02 billion in 2017 as a result of its annual impairment assessments.
What drove these impairment charges?
Dentsply Sirona's 2017 impairment charges were driven by an unfavorable revision to the company's sales, margins, and other estimates due to the recent developments, including lower North America retail sales, an increase in competition, US tax reform legislation passed in December 2017, and changes in foreign exchange rates.
Dentsply Sirona reported 4Q17 retail sales that met expectations but were lower than those of channel partners in 4Q17. This resulted in an increase in the company's channel inventory rather than the decline estimated during the company's 3Q17 earnings release.
The US Tax and Jobs Act enacted in December 2017 led to a higher effective tax rate for Dentsply Sirona, which also impacted the calculated impairment charges. The company expects its effective tax rates to marginally increase going forward, and so a decline in projected net cash flows was recorded.
Other US medical technology companies that saw a negative impact of the tax reforms on their balance sheets in recently reported quarters include Boston Scientific (BSX), Align Technology (ALGN), and Baxter International (BAX).