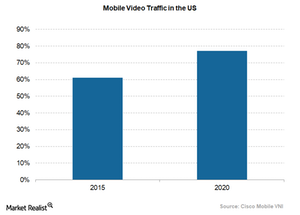 Behind Altice's Settlement with Starz over Carriage Fees
By Sophia Nicholson

Updated
Altice USA settles its dispute with Starz
On February 13, 2018, Altice USA (ATUS) again joined hands with Starz broadcasting channels, just six weeks after Altice decided to drop the pay network's channels on its platform due to a dispute over carriage fees. The companies didn't announce the terms of the new deal.
Altice brought back all the Starz channels to its cable system. Altice said in a statement that the agreement offers "the full suite of STARZ and STARZ ENCORE premium linear and HD channels, On-Demand, HD On-Demand and online services across the Optimum and Suddenlink cable systems."
Article continues below advertisement
The dispute between Altice and Starz
On January 1, 2018, Altice removed 17 Starz channels, including Starz Comedy, Starz Kids & Family, Starz Edge, StarzEncore, and MoviePlex premium channels after Lionsgate-owned Starz demanded higher programming fees from Altice. Altice was concerned that charging higher rates would force the company to pass on the costs to Altice customers and that the fees were more than the cost of Starz's stand-alone streaming service. Altice didn't want to pay higher prices for Starz channels. Altice believed that customers would prefer to subscribe to Starz's over-the-top streaming service at a lower cost, which would hurt Altice.
Companies pursuing a direct-to-consumer strategy
The growing demand for streaming Internet service has ruptured the overall value of traditional cable services. As a result, companies are resorting to launching their own streaming service. CBS's (CBS) Showtime and Time Warner's (TWX) HBO Now are other over-the-top streaming services. The Walt Disney Company (DIS) is set to launch two of its own streaming video services, one for ESPN, which will begin in 2018, and the other for Disney's extensive library, which will start in 2019. With the launch of its own streaming service, Disney is also withdrawing its content from Netflix (NFLX).
According to a Cisco Systems' VNI (visual networking index) report, video is likely to account for 77% of all mobile data traffic by 2020 in the United States.