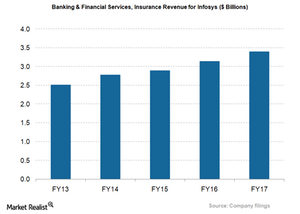 Banking and Financial Services: A Dominating Force for Infosys
By Aaron Hemsworth

Apr. 2 2018, Updated 9:01 a.m. ET
Major catalyst
Infosys's (INFY) Banking and Financial Services and Insurance portfolio, which contributes nearly 33.0% of the company's total revenues, dominates its overall client portfolio. This portfolio is driven by double-digit growth in the Insurance division.
In the last five quarters, the overall Banking and Financial Services and Insurance business, which generated the highest revenues for Infosys over the years, grew at a CAGR (compound annual growth rate) of 1.8%. In the last five years, it increased at a healthy CAGR of 7.8%.
In the graph above, we can see the revenue growth of Infosys's Banking and Financial Services portfolio in the last five years. The company maintained an increasing growth trend during the period.
Article continues below advertisement
Revenues
Infosys's Insurance business, which forms the major driver for its overall portfolio, climbed 20.4% YoY (year-over-year) in fiscal 3Q18 to $187.0 million. At the end of fiscal 9M18, the business garnered revenues of ~$526.0 million compared to $443.0 million in the same period last year. In 2017, it grew 11.0% YoY to $602.0 million.
The Banking and Financial services unit of the company's portfolio, which contributes the bulk of its revenues, expanded 4.4% YoY in fiscal 3Q18 to $725.0 million. The revenues for fiscal 2017 stood at $2.8 billion, up 7.0% YoY. The revenues in the last five years grew at a CAGR of 8.6%, maintaining an increasing trend over this timeframe.
Accenture (ACN), which operates in the same space as Infosys, reported 5.0% YoY growth in financial services revenues in fiscal 2017.