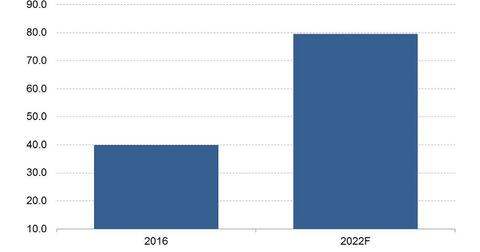 Apple Watch Finds a Market as a Remote Control
By Ruchi Gupta

Updated
Controlling Whirlpool appliances through the Apple Watch
Beyond the fashion and fitness sectors, the market is opening up for Apple's (AAPL) watch product as a remote control system in smart homes. Whirlpool (WHR), a manufacturer of home appliances, has made its products compatible with the Apple Watch. The integration will enable Whirlpool customers to remotely control their appliances from their Apple Watches.
Whirlpool products capable of responding to commands from the Apple Watch are expected to start shipping later this year. More than 20 Whirlpool appliances will initially be enabled for Apple Watch controls.
Article continues below advertisement
Whirlpool enabling products for Alexa controls
Whirlpool is also working on enabling its customers to operate its products through voice-based digital assistants such as Alexa by Amazon (AMZN) and Google Assistant by Alphabet's (GOOGL) Google. Alexa is the technology that underpins Amazon's Echo speaker, while Google Assistant is the technology that powers Google's Google Home device.
Both Echo and Google Home are being adopted as hubs in smart homes, a market that Apple is also pursuing with its HomePod device.
A nearly $80 billion revenue opportunity in home automation
Whirlpool's integration with the Apple Watch could help accelerate Apple's penetration of the smart home market and generally expand and diversify the market for the device.
According to MarketsandMarkets, the market for home automation systems will expand at an average rate of 11.3% annually in the coming years to reach $79.6 billion by 2022. The market was estimated to be $39.9 billion in 2016.
In the fitness and fashion markets, Apple is facing competitive pressures from rival smartwatch vendors such as Fitbit (FIT) and Garmin (GRMN). Diversifying the market for the Apple Watch could bring the company more success in its smartwatch business.