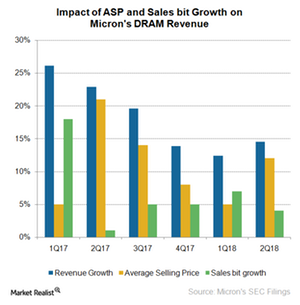 A Look at the Performance of Micron's DRAM Business
By Puja Tayal

Mar. 30 2018, Updated 9:02 a.m. ET
Micron's DRAM market share
DRAM (dynamic random-access memory) is Micron Technology's (MU) core product. The company is the only US-based DRAM manufacturer, and it holds a 20.8% share in the global DRAM market after Samsung (SSNLF) and SK Hynix, which held market shares of 46% and 28.7%, respectively, in 4Q17, according to DRAMeXchange.
Article continues below advertisement
Micron's DRAM earnings
Micron's DRAM revenue rose 14.5% sequentially and 76% YoY (year-over-year) to $5.2 billion in fiscal 2Q18, contributing 71% toward the company's revenue. DRAM revenue is a product of ASP (average selling price) and shipments measured as sales bit growth. During the quarter, Micron's DRAM ASP rose in the low-double-digit percentage, and its shipments rose in the mid-single-digit percentage. This shows that DRAM supply remains constrained.
Micron has witnessed strong DRAM demand from the graphics card, server, and mobile segments. Its key graphics customer, NVIDIA (NVDA), has increased its GPU (graphics processing unit) supply to meet the increasing demand from gamers and cryptocurrency miners.
Micron has continued to ramp up DRAM production on its 1X node, which has helped it to reduce its cost per bit. A higher ASP and lower costs drove its DRAM non-GAAP (generally accepted accounting principle) gross margin from 44% in fiscal 2Q17 to 66% in fiscal 2Q18. On a sequential basis, its gross margin expanded four percentage points.
Micron expects to achieve bit crossover on 1X DRAM by the end of 2018. Bit crossover is achieved when the yield from the new node reaches the yield from the previous generation's node. As the 1X node is delivering a stronger yield, the company expects its DRAM output to rise 20% in 2018—higher than its earlier estimate of less than 20% growth in DRAM output.
Will a rising DRAM ASP disrupt demand?
The DRAM ASP has been increasing for the last 18 months, and it's showing no signs of a decline. This has many analysts wondering whether a higher ASP is disrupting potential demand for DRAM. Addressing these concerns on Micron's fiscal 2Q18 earnings call, CEO Sanjay Mehrotra stated that DRAM demand is inelastic, which means that it's unaffected by price changes.
PC (personal computer) and mobile OEMs (original equipment manufacturer) have to use a certain amount of DRAM to achieve their desired performance. As OEMs add data-intensive applications such as AR (augmented reality), VR (virtual reality), and 3D gaming to their high-end products, they need to add more DRAM content to deliver a seamless user experience. Hence, they're willing to pay a higher DRAM price. In the hyperscale data center space, the value DRAM delivers far exceeds its price because it enables the real-time processing of data.
As DRAM has become an essential part of the data-centric world, its demand remains unaffected by its price. Instead, OEMs are entering into longer-term supply contracts and are even prepaying to ensure an uninterrupted supply of DRAM.
Next, let's look at the DRAM market environment.