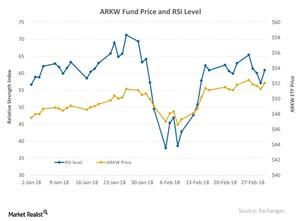 A Look at the Ark Web x.0 ETF and the BTC Global Scam
By Meera Shawn

Mar. 5 2018, Published 8:06 a.m. ET
Best and worst performers
Among the top performers on March 4, 2018, were Nexus, Emercoin, and Zilliqa, rising 25.8%, 19.6%, and 16.2%, respectively. The worst performers for the day were Bitcore, Veritaseum, and NEM, falling 9.2%, 6.2%, and 5.8%, respectively. The overall market capitalization of cryptocurrencies has risen to $469 billion. Bitcoin's dominance among other cryptocurrencies was 41.5% as of 12:30 AM EST on March 5.
Article continues below advertisement
Tron, which is now 13th according to market capitalization, rose 25% on March 2, most likely due to the news that it had been listed on the Bittrex exchange. Investors were expecting that to increase its exposure and adoption. However, the price slowly fell that day and was trading at $0.48 as of 12:30 AM EST on March 5.
ARKW and Bitcoin
The Ark Web x.0 ETF (ARKW) is known to closely track the price performance of Bitcoin and the cryptocurrency market in general. The price of ARKW rose to $52.10 on Friday, March 2, 2018, since cryptocurrencies saw a considerable rise in price. The RSI (relative strength index) level for ARKW (ARKK) was 60, and the RSI for Bitcoin was nearly the same.
Many governments around the world still don't seem to like cryptocurrencies. Mark Carney, governor of the Bank of England, stated at the Scottish Economics Conference on March 2, 2018, "The long, charitable answer is that cryptocurrencies act as money, at best, only for some people and to a limited extent, and even then only in parallel with the traditional currencies of the users. The short answer is they are failing."
Some more bad news for cryptocurrencies came from BTC Global, which was launched on September 25, 2017, by Steven Twain. It used binary options trading, which reportedly took more than $50 million. Victims of this scam continue to come forward in South Africa and other countries.