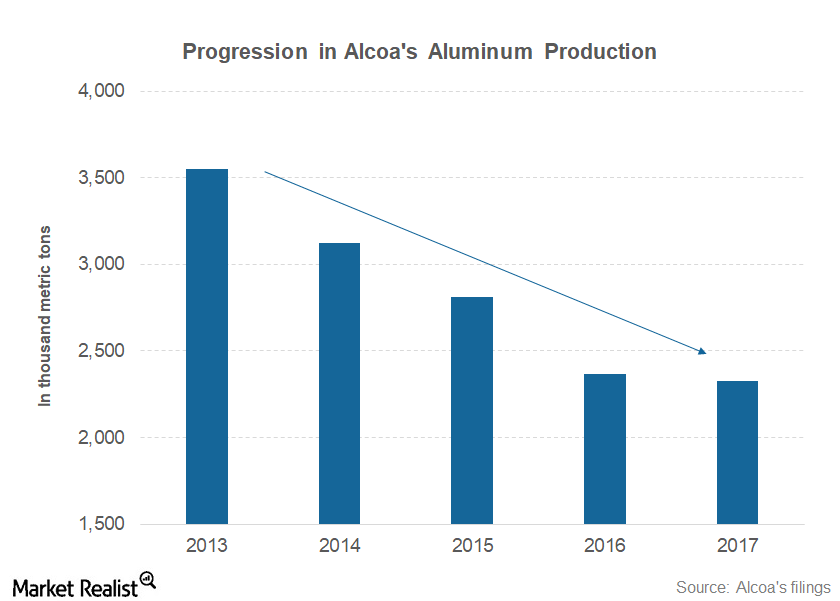 Why US Aluminum Production Isn't Rising—Despite Higher Prices
By Mohit Oberoi, CFA

Feb. 22 2018, Updated 3:56 p.m. ET
US aluminum production
As we discussed in the preceding part of this series, US aluminum production has been stagnant at best, despite the nearly 50% rise in aluminum prices when compared with the 1Q16 lows. US aluminum production has been in a falling trend for quite some time now, and current production levels are hovering near multiyear lows.
In this article, we'll see why US aluminum production doesn't look to be coming back online in a big way, despite higher aluminum prices.
Article continues below advertisement
Power woes
One of the reasons US-based aluminum producers such as Alcoa (AA) and Century Aluminum find it hard to compete is because the cost of electricity is higher in the United States. Electricity costs can make up almost a third of aluminum's production costs.
Producers in China allegedly get a power subsidy. Higher labor costs in the United States also don't help the US aluminum industry.
Notably, the only major smelter restart that we've heard of in the last two years is Alcoa's partial restart of its Warrick smelter. However, the restart that was expected in 2Q18 was partially aided by state support.
Century Aluminum (CENX) also has idled some of its plants. Along with the economies of metal prices, electricity costs have played a major role in plant curtailments.
Another important aspect to consider would be that no new smelter has come online in the United States since Mt. Holly, which Century Aluminum acquired from Alcoa. The smelter opened in 1980.
Old plants tend to have higher cost structures compared to new plants. This could be another reason why US smelters have found it hard to compete with imported aluminum (RIO) (S32).
In the next part of this series, we'll see how the Commerce Department's other proposals could impact US aluminum markets (XLB).