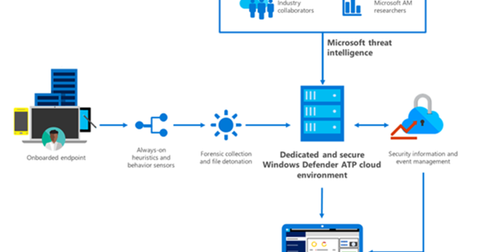 Why Microsoft May Be Considering Buyouts for Its Windows Defender Platform
By Anne Shields

Feb. 8 2018, Updated 10:30 a.m. ET
Security offerings would enrich Microsoft's position in the public cloud
In the preceding parts of this series, we discussed how FireEye's (FEYE) distinct position in the cybersecurity space makes it a potential target for Microsoft (MSFT), which has been eyeing acquisitions in the security space for a long time now. The acquisition of a cybersecurity company would also be in sync with Microsoft's strategy of becoming a leader in the cloud.
Without a doubt, cloud security is one of the key areas of growth in the cybersecurity space, and security is a prerequisite of Microsoft's vision of becoming a leader in the public cloud. A stronger security offering would not only help Microsoft's public cloud offerings but also enhance the software and OS (operating system) offerings that form the crux of its business.

Last week, Amazon.com (AMZN) acquired Sqrrl. Sqrrl's specialty lies in enabling security analysts to identify, expose, and track down threats. And remember, Amazon is the undisputed leader in the cloud space and poses severe competition to Microsoft.
Article continues below advertisement
Microsoft's Windows Defender needs a boost to compete in security space
Microsoft sells security offerings, and one of its best-known offerings is Windows Defender. Windows Defender is Microsoft's free antivirus software, which protects devices from malware and is built into Windows.
However, in comparison with competitive offerings, Windows Defender does not rank very high. With significant updates over the past two years, its score improved to 14 out of 18 as of October 2018, but Windows Defender still is lower than most of its peers.
According to the Information, Symantec (SYMC) scored 17.5, Kaspersky Lab an 18, McAfee a 17, and Avast a 15 during the same period.
To improve its security offerings, Microsoft has acquired four security companies, but to boost its existing offerings portfolio or to expand into new areas, Microsoft could still be interested in making another acquisition in the security space.
In the next part of this series, we'll shift our focus to Palo Alto, one of FireEye's industry peers.