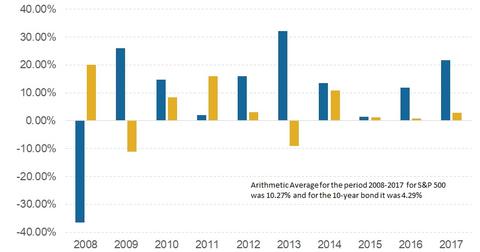 Why Buffett Says Low-Yielding Bonds Are a Dumb Investment
By Ricky Cove

Updated
The zero-coupon bond and Girls Inc. of Omaha
In this annual letter to shareholders, Warren Buffett explained a bet between him and his counterpart, Protege Partners, to fund a charity, Girls Inc. of Omaha. In 2007, both of them invested in half a million worth zero-coupon bonds (SHY) that would mature in ten years and would increase to $1 million.
A zero-coupon bond does not bear any interest, but it is sold at a discount to compensate for interest. Buffett purchased these bonds at 0.64 to the $1. In simple terms, a $0.64 investment would yield a payment of $1 in ten years, with an expected annual return of 4.56%.
Article continues below advertisement
Wager midway to offset a dumb investment
By the end of 2012, approximately midway through the ten-year period, the yields on these bonds (AGG) had dropped to 95.7% of their face value, having earned only 0.88 percent per year.
Buffett said that such a low return has made his investment dumb, as the S&P 500 Index (SPY) had returned close to 2% per year over the same period. At that point, he made the decision to sell the bonds and invest the proceeds in Berkshire "B" shares, which turned into $2.2 million in the next five years.
The wager was that Buffett would match any loss on the investment if the value dropped below $1 million. The charity picked by Warren Buffett, Girls Inc. of Omaha, received $2.2 million by the end of the ten-year tenure.
Stocks better than bonds
Warren Buffett used the above example to explain that over a ten-year horizon, investments in a zero-coupon—or in any other US Treasury (GOVT)—would have been riskier than investing in stock markets (VOO).
In the next part of this series, we'll analyze Buffett's view that it's actually a "terrible mistake" for long-term investors to measure risk by the ratio of a portfolio.