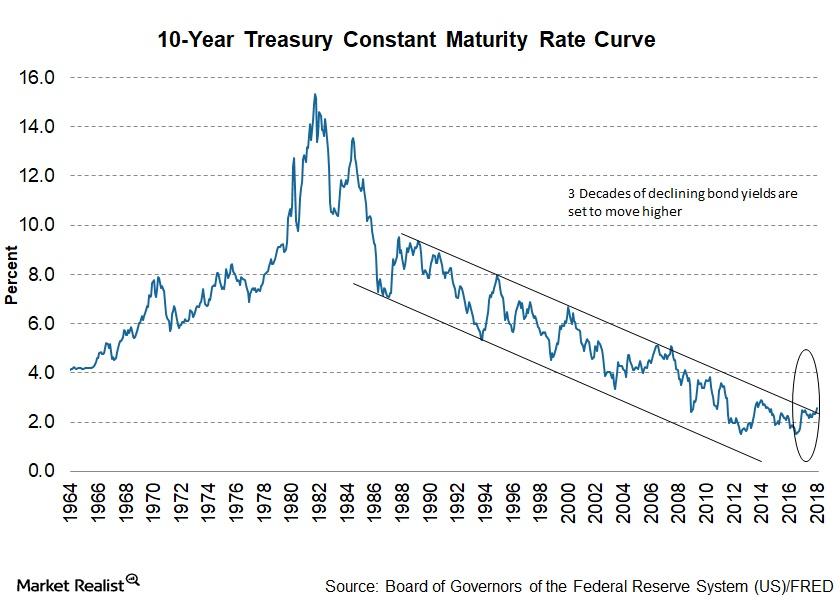 Why Buffett Believes Investing in Bonds Is a 'Terrible Mistake'
By Ricky Cove

Feb. 28 2018, Updated 4:15 p.m. ET
The 30-year bull run is coming to an end
Bond markets across the developed world have enjoyed a three-decade bull run that began in the early 1980s. The increasing demand for fixed income (BND) investments has pushed bond prices higher and yields lower, but investors have continued to pour money into bond markets because bonds were known to help balance portfolio risk.
Now, with global economies picking up the pace, interest rates are bound to increase—at least, in the short-term—until they reach normal levels.
Article continues below advertisement
Monetary policy support is coming to an end
Over the past decade, central bankers have supported the bond market with low interest rates. This has started to reverse in the past year as US interest rates have begun to increase and inflation has started increasing at the same time.
This is a deadly combination because inflation (TIP) eats away the value of investors' income. When inflation (VTIP) starts to increase, bond (AGG) holders holding long-term (TLT) bonds stand to lose the most.
Buffett's view of bonds could turn out to be true
As mentioned in the previous article, returns on bond investments have been less than equity investments, even in a period of economic recession.
In his latest letter to investors, Warren Buffett said, "It is a terrible mistake for investors with long-term horizons—among them, pension funds, college endowments and savings-minded individuals—to measure their investment 'risk' by their portfolio's ratio of bonds to stocks. Often, high-grade bonds in an investment portfolio increase its risk."
This appears to be sound advice, but the institutions Buffett's mentioning are governed by investment policies that are decades old—and will likely need to be reexamined for the benefit of investors. The complete letter to shareholders can be accessed here.