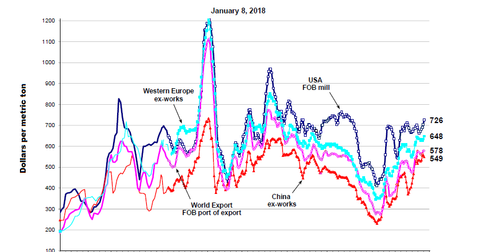 Why a Flat Tariff against Steel Imports May Not the Best Solution
By Mohit Oberoi, CFA

Updated
Steel imports
As noted previously, the US Commerce Department has given President Trump three options under the recently concluded Section 232 steel imports probe. One of the options calls for global steel duties of at least 24% on all countries.
However, some say that the approach has two major flaws. A tariff on "national security grounds" on NAFTA (North American Free Trade Agreement) and Western European countries could end up antagonizing some of the US's closest security partners. It could also make the US look isolated in a world wherein China is aiming to fill to any void left open by waning US dominance.
Article continues below advertisement
Semi-finished steel
There are also some product categories wherein the United States might lack the capacity to produce certain grades of steel, and so the imposition of duties against such products might not be in the best interests of the US. For this reason, the US Commerce Department's report does mention that exceptions could be granted for such product categories.
Another thing to consider would be that the Commerce Department is also recommending tariffs on semi-finished steel products like slabs and unfinished steel products. Levying a duty on semi-finished steel products that are further processed in the United States would have an inflationary impact on US steel prices (CLF), and higher semi-finished steel prices could also mean higher unit costs for US steel companies.
One could also argue that any increase in production costs would be more than offset by higher steel prices (MT) (NUE).
Notably, while a flat tariff on steel imports would mean higher profitability for US steel companies, it would also mean that US steel buyers would have to pay higher steel prices (X) (AKS), which could lead to some inflationary pressure.
In the next part of this series, we'll see what steel buyer groups have to say about the Section 232 imports probe.