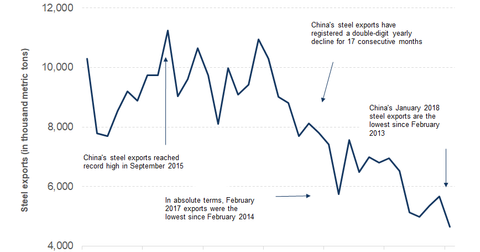 What's the Core Issue Facing the Global Aluminum Industry?
By Mohit Oberoi, CFA

Updated
The global aluminum industry
The US Commerce Department has recommended actions including a tariff and quota against aluminum imports under the Section 232 imports probe that was completed earlier this year. While the news triggered buying interest in Century Aluminum (CENX), Alcoa (AA) actually closed with a marginal loss after the news broke out.
Article continues below advertisement
Chinese overcapacity
We should remember that the core issue facing the global steel and aluminum industries is global in nature and not necessarily limited to the US market. There is significant aluminum overcapacity in China, and the country's exports have been on the rise, despite the much-publicized winter month capacity curtailments.
China's aluminum exports rose 4.5% YoY (year-over-year) last year. There looks to be little respite ahead for global markets from Chinese aluminum export tsunami as the country's aluminum exports rose 14.1% YoY in January as well.
Now, the question will likely be the following: Would US tariffs or quotas against aluminum imports help address Chinese aluminum overcapacity?
Probably not. According to Reuters, citing Alcoa "US trade actions should focus on Chinese overcapacity and not penalize nations that abide by the rules."
Steel exports
China's steel exports (X) have come down sharply last year because it has shut down some of its polluting capacity in a bid to address the country's rising pollution and to placate some of its trading partners.
Notably, the issue of steel overcapacity was raised in the G20 summit, which has also helped build global pressure on China to address the issue. A similar approach in aluminum might just do the trick for the global aluminum industry (ACH) (RIO).
You can visit Market Realist's Metals and Mining page for ongoing updates on this industry.