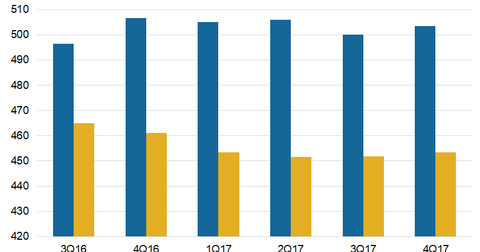 Wells Fargo's Loan Book Can Expand in 2018 on Retail, Real Estate
By Robert Karr

Updated
Loan book contraction
Wells Fargo (WFC) adopted strict underwriting guidelines in 2017. This change resulted from the bank facing higher provisions for losses as well as corporate outlays on the unearthing of the fake account opening scandal. Although the bank reversed the downward spiral in 4Q17, its loan book contracted by 1.0% on a YoY (year-over-year) basis.
Lower tax rates, liquidity, and higher operating cash flows have allowed corporates to go for lower leverage amid a rising interest rate scenario. Wells Fargo would have to seek higher retail lending in order to maintain credit quality as well as improve the growth of its loan book.
Article continues below advertisement
Wells Fargo has high exposure toward mortgaged lending, which has experienced a weaker environment on rising interest rates. However, real estate is expected to rebound in 2018 backed by a lower base, demand for housing, and lower unemployment rates. This can allow Wells Fargo to regain its presence in mortgage lending and possibly improve its loan book.
Major bankers (XLF) including Bank of America (BAC) and Citigroup (C) have expanded their loan book at higher rates. However, JPMorgan Chase (JPM) has also reported reasonable growth in 2017.
Wells Fargo's loan book declined by 1.0% to $951.8 billion in 4Q17 from $964.1 billion in 4Q16. Analysts are expecting 1.5%–2.0% overall loan book growth in 2018.
Weak commercial lending
Wells Fargo's commercial loan book declined by $692.0 million sequentially in 4Q17. This decline was primarily due to lower commercial real estate loans and partially offset by growth in commercial and industrial loans.
However, consumer loans increased by $171.0 million during the same period. Its loan activity was helped by growth in housing and credit card, and it was partially offset by weaker auto loans and lower revolving credit accounts.
Sequentially, Wells Fargo's loan book expanded by $4.9 billion, indicating a potential rebound from low levels going into 2018. Its retail lending is buoyant, whereas weak commercial real estate lending is still weighing on its overall growth.