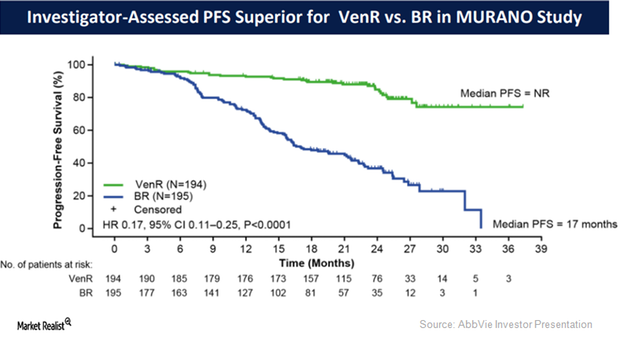 Venclexta May Prove a Novel Chemotherapy-Free Treatment Option
By Margaret Patrick

Nov. 20 2020, Updated 5:27 p.m. ET
Venclexta in relapsed/refractory CLL indication
In 2017, AbbVie (ABBV) and Roche Holdings' (RHHBY) Venclexta reported positive data from its Phase 3 trial, MURANO, which evaluated the efficacy of the drug's combination with Rituxan in a relapsed/refractory chronic lymphocytic leukemia (or CLL) indication.
Compared to a bendamustine-Rituxan regimen, the Venclexta-Rituxan therapy demonstrated a significant improvement in important metrics, such as peripheral blood minimal residual disease (or MRD) negativity, overall response rate (or ORR), progression-free survival (or PFS), and overall survival (or OS) in relapsed/refractory CLL patients, in the MURANO trial. Venclexta is expected to prove to be a robust chemotherapy-free treatment option in this indication.
Article continues below advertisement
AbbVie and Roche Holdings have filed an application with the FDA seeking approval for this combination therapy. AbbVie plans to expand its addressable CLL market size by securing regulatory approval for Venclexta in this indication in 2H18. To know more about Venclexta as a CLL therapy, read AbbVie's Venclexta for Chronic Lymphocytic Leukemia.
Other indications
AbbVie and Roche Holdings aim to gradually expand the addressable market size for Venclexta, starting with relapsed/refractory CLL patients with 17p deletion, followed by the complete relapsed/refractory CLL population, and finally followed by the first-line CLL patient population. After this expansion, the companies plan to advance Venclexta as a foundational therapy in the hematologic oncology segment.
AbbVie and Roche Holdings have commenced Phase 3 programs to study Venclexta in the treatment of other hematologic malignancies, such as multiple myeloma and acute myeloid leukemia (or AML). On July 28, 2017, a Venclexta low-dose cytarabine (or LDAC) combination regimen was granted breakthrough therapy designation by the FDA as a treatment option for elderly treatment-naïve AML patients not suitable for intensive chemotherapy regimens. The company plans to file an application with the FDA seeking approval for Venclexta in an AML indication in late 2018 or early 2019.
Venclexta is thus expected to strengthen AbbVie's position as a robust hematologic oncology player, competing against peers such as Johnson & Johnson (JNJ) and Celgene (CELG).
In the next article, we'll discuss AbbVie's HCV drug, Mavyret, in greater detail.