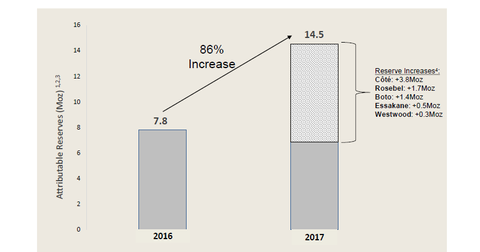 Understanding IAMGOLD's 86% Increase in Reserves in 2017
By Anuradha Garg

Updated
Significant reserves growth
IAMGOLD's (IAG) reserves increased 86% year-over-year (or YoY) in 2017 to 14.5 million ounces. The company is using a gold price assumption of $1,200 per ounce to estimate reserves. The following conversions led to this increase in reserves:
conversion of resources to reserves at the Côté Gold project in Ontario
conversion of resources to reserves at the Boto Gold project
previously announced reserve increase at the Rosebel Gold Mine
Its resources increased 6% YoY to 24.7 million ounces by the end of 2017.
Article continues below advertisement
Mine-by-mine reserve changes
We'll now summarize the changes in reserves for each of IAG's mines.
Rosebel Mine, Suriname: a net YoY rise of 69% to 3.3 million ounces
Essakane Mine: an increase of 2% YoY to 3.1 million ounces due to the conversion of resources at the Essakane Main Zone and Falagountou
Westwood Mine: a net increase of 12% to 1.18 million ounces
Sadiola Mine: a net decrease of 6% YoY to 1.7 million ounces
Côté Gold: an initial reserve of 3.84 million ounces declared, which was converted from resources to reserves due to positive results of pre-feasibility study results
Boto Gold: a net addition of 1.42 million ounces
Saramacca: in September 2017, a maiden resource was declared, and attributable indicated resources were estimated to be 680,000 ounces
More growth to come in 2018
The president and CEO of IAG, Steve Letwin, mentioned in a press release about a reserves update that the company were able to gain a significant increase in reserves in 2017 through exploration successes and improved cost performance.
He added, "We are very excited about 2018 as it is setting up to be another year for significant growth in our reserve and resource base."
IAG's reserve increase comes at a time when the overall reserves in the industry (NUGT)(RING) are on a downtrend. Barrick Gold (ABX), for example, reported a 25% fall in its 2017 reserves, which came in at 64.5 million ounces. Some of this decline is due to divestments associated with Veladero and Cerro Casale.
Kinross Gold's (KGC) reserves fell 16% year-over-year in 2017 to 25.9 million ounces. Goldcorp's (GG) gold reserves, on the other hand, showed an improvement of 26.5% year-over-year, coming in at 53.5 million ounces as of June 30, 2017.