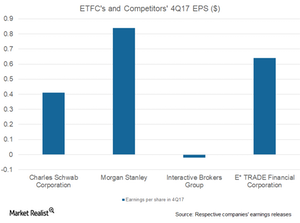 Understanding E*TRADE's Total Net Revenues
By Raymond Anderson

Feb. 8 2018, Updated 7:34 a.m. ET
Net revenues
E*TRADE Financial Corporation (ETFC) reported total net revenues in 4Q17 of $637.0 million compared to $509.0 million in 4Q16. From 4Q16 to 4Q17, the company's net interest income rose substantially from $288.0 million to $419.0 million.
Compared to 3Q17, E*TRADE's net interest income rose by $28.0 million due to favorable momentum in the net interest margin as well as in average interest-earning assets.
Article continues below advertisement
Earnings per share
Among E*TRADE's competitors (XLF), Charles Schwab (SCHW), Morgan Stanley (MS), and Interactive Brokers Group (IBKR) reported 4Q17 earnings per share (or EPS) of $0.41, $0.84, and -$0.02, respectively.
E*TRADE saw a decline in its total non-interest income from $221.0 million in 4Q16 to $218.0 million in 4Q17. Compared to 4Q16, other revenues remained flat at $11.0 million in 4Q17.
Commission revenues
On a sequential basis, E*TRADE's commission revenues rose 9.0% to $109.0 million in 4Q17, aided by a 15.0% increase in the daily average revenue trades (or DARTs). However, the increase in commission revenues was negatively impacted by a $0.35 decrease in the average commission per trade.
E*TRADE's management didn't express concern about the reduced commission per trade as customers participation rose. The company also reported favorable momentum in the derivatives business. The company's fees and service charges rose from $80.0 million in 4Q16 to $93.0 million in 4Q17.