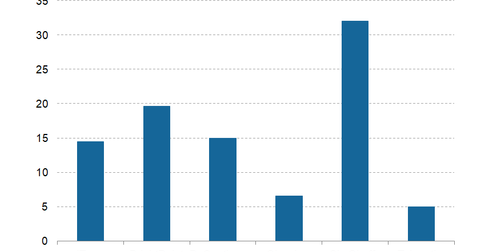 ServiceNow Strengthens Its Operating Platform via Acquisitions
By Aaron Hemsworth

Updated
Acquisitions
ServiceNow (NOW) is enhancing its product portfolio through continuous acquisitions. From fiscal 2016 to fiscal 2017, the company made six acquisitions. The total amount spent was ~$93.0 million at an average of $15.5 million per deal.
SkyGiraffe, a mobile platform company, was ServiceNow's latest purchase made on October 31, 2017, for $32 million. The accounting and analysis of this transaction are still incomplete.
ServiceNow also made an investment in BuildOnMe, an early-stage company that could help ServiceNow send artificial intelligence–enabled applications on its platform.
In the chart above, we can see the list of the acquisitions made by ServiceNow from fiscal 2016 to fiscal 2017. ServiceNow's highest-value purchase was BrightPoint, and its lowest-value purchase was Telepathy.
ServiceNow exited fiscal 2017 with $492.0 million in free cash flow compared with $54.0 million in 2016. This increase in free cash flow was driven by growth in deferred revenues, which could allow ServiceNow to keep expanding its inorganic growth through similar small acquisitions.
Article continues below advertisement
Strong free cash flow
In fiscal 2017, ServiceNow's free cash flow margin stood at 25.0% compared with 23.0% in fiscal 2016. The company anticipates free cash flow margins for fiscal 2018 to be 20.0%–27.0%. This strong free cash flow margin could support the company's future acquisition goals.
The IT industry is highly competitive with the launch of many mid-size to small software companies. To retain market share and to enhance their product portfolios, large companies tend to take over smaller firms.
In December 2016, Microsoft (MSFT) completed the acquisition of LinkedIn for $26.2 billion. In November 2017, IBM (IBM) completed the acquisition of Vivant Digital.