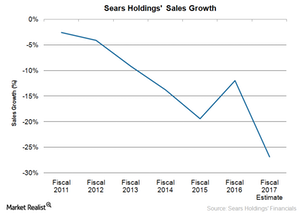 Why Sears Holdings' Asset Sales Strategy Is a Patchwork Solution
By Victoria Dean

Feb. 8 2018, Updated 9:03 a.m. ET
Asset sale
Sears Holdings (SHLD) has been selling both its real estate and some of its brands to pay down debt. The company generated net proceeds of $270 million in fiscal 3Q17 through real estate and other asset sales, which were used to pay the company's debt along with an additional $167 million generated in November.
More recently, the company also amended an agreement with PBGC (Pension Benefit Guaranty Corporation), whereby after February 2018, nearly 138 properties will be moved away from the ring-fence agreement created under the PPPFA (Pension Plan Protection and Forbearance Agreement) by paying $407 million towards the company's pension plan. This amendment will make it possible for Sears to sell these additional 138 properties to boost liquidity. Last year, the company also sold its Craftsman brand to Stanley Black & Decker (SWK) for $725 million. Earlier, it spun off clothing line Lands' End into a separate company.
Article continues below advertisement
Why isn't asset sale a long-term solution?
Selling off properties may help in the near term, but it's more of a patchwork solution. Selling off assets to boost cash levels isn't a real growth strategy especially when sales are decelerating. In fiscal 3Q17 alone, the company lost ~$1.4 billion in revenues compared with fiscal 3Q16. The company's cash used in operations for the nine months ended October 28, 2017, was $1.9 billion. The company is bleeding cash.
The company already has sold quite a chunk of its properties and brands. As of October 28, 2017, the company had generated around $867 million through the sale of property and investments. In fiscal 2016 and fiscal 2015, the company generated $386 million and $2.7 billion, respectively, by selling off properties.
As of October 28, 2017, the company is left with $1.9 billion worth of property and equipment on its balance sheet. It also has another $1.5 billion as goodwill and other intangible assets as of October 28, 2017.
With upcoming debt maturities and significant cash outflows, asset sale may just not be the long-term solution to Sears's problem.