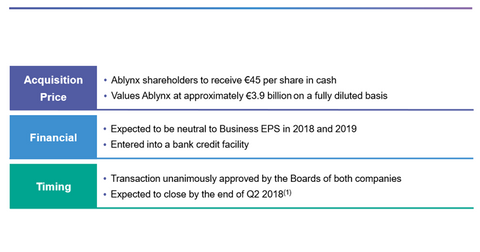 Why Sanofi Has Received a Negative Outlook from Fitch Ratings
By Sarah Collins

Updated
Fitch provides a negative outlook on Sanofi
On January 30, 2018, Fitch Ratings reiterated its negative outlook on Sanofi with a rating of "AA-." The rating agency views Sanofi's two recent acquisitions in close succession with a total value of 13.7 billion euros as a risk to its balance sheet.
According to Fitch, Sanofi's FFO (funds from operations) adjusted net leverage is likely to rise to 2.2x due to its recent acquisitions of Bioverativ and Ablynx (ABLX). Fitch expects better clarity from Sanofi on the deal's implications after Sanofi announces its 2017 results on February 7, 2018.
Article continues below advertisement
Unlike the acquisition of Bioverativ, the acquisition of Ablynx isn't expected to be immediately earnings accretive for Sanofi. Ablynx mostly has midstage assets, which will temporarily weigh down Sanofi's financial leverage. However, Sanofi's next three years of free cash flow estimates of 6%–7% post-dividends are likely to partially offset this temporary impact on the company's balance sheet. Further, conservative capital allocation and the likely sale of Sanofi's generic business are expected to restore its financial profile.
Sanofi's rating will also be affected if its acquisitions are heavily financed through debt or share buybacks, its sales take a hit due to slower-than-expected product launches or off-patent drug sales, or its profitability is weaker.
Positive views on Sanofi
Sanofi's Ablynx acquisition strengthens its rare blood disorders portfolio and provides it with access to Ablynx's late-stage candidate caplacizumab, which is likely to generate significant sales for Sanofi soon. The rare diseases market remains less prone to pricing pressures, so an enhanced portfolio in this market should provide Sanofi with significant growth opportunities.
Also, Sanofi's sales erosion arising from rising generic competition and pricing pressures in its diabetes and established products portfolio will be partially offset by the company's expansion in the high-growth area of rare diseases.
Peers Merck & Co. (MRK), GlaxoSmithKline (GSK), and Novartis (NVS) have ratings of "A," "A," and "AA," respectively, from Fitch Ratings. Investors looking for diversified exposure to Sanofi can invest in the First Trust BuyWrite Income ETF (FTHI), which has ~0.22% of its total holdings in SNY.