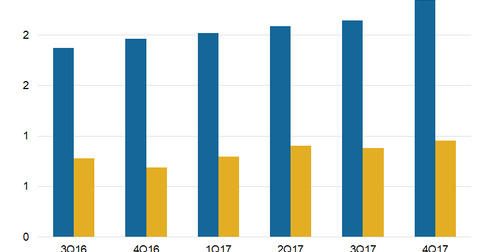 Retail, Global Lending Key for US Banks amid Rate Hikes
By Robert Karr

Updated
Credit offtake is a key driver
Commercial banks (XLF) have seen 2.0%–9.0% growth in credit offtake for fiscal 2017. Wells Fargo (WFC) posted the lowest growth among major bankers due to strict underwriting guidelines following its fake account opening scandal. On the other hand, Bank of America (BAC), Citi (C), and JPMorgan Chase (JPM) posted strong growth rates in loans helped by corporate and retail lending.
In 2018, credit offtake is expected to be a key driver for banks. A growing economy and a manufacturing push from the Trump administration can help boost credit offtake. However, higher interest rates and weak global equities could keep borrowers away and discourage corporations from expanding.
Article continues below advertisement
Global presence
Lenders with diversified lending across the various regions and sectors should be in a better position to expand their balance sheet in 2018. Citigroup's (C) Global Consumer segment garners revenues from lending as well as banking activities in Asia, the Americas, and Europe. Global revenues in the wake of a weak dollar could provide multiprong benefits of offtake and a weak currency.
Bank of America's (BAC) loan book grew to $937.0 billion in 4Q17, compared with $907.0 billion in 4Q16. Its deposits grew by $40.0 billion to ~$1.3 trillion, reflecting higher cash flows and wealth creation. The bank's credit offtake is expected to increase by ~2.0% in 2018 due to higher liquidity and lower demand.
Retail lending
Retail lending—including mortgages, small business loans, and credit card lending—can help banks expand their lending profiles in 2018. Corporate borrowing is expected to slow down owing to higher rates. JPMorgan Chase (JPM) and Citigroup (C) are focusing on retail lending via credit, education, and business loans.
Corporate borrowing is expected to resume only when the rate hike momentum stabilizes, leading to clarity on the long-term yield curve.