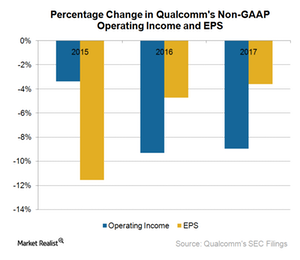 Qualcomm's Fiscal 2018 Revenue in Various Scenarios
By Puja Tayal

Feb. 5 2018, Updated 7:31 a.m. ET
Qualcomm's fiscal 2018 revenue
Qualcomm's (QCOM) legal and shareholder issues are impacting its revenue, even though it's witnessing strong demand for its products. Qualcomm's Snapdragon 835 processors built on Samsung's (SSNLF) 10 nm (nanometer) node was received well by smartphone OEMs (original equipment manufacturers). That saw Qualcomm's chipset revenue rise 7% YoY (year-over-year) in fiscal 2017.
Fiscal 2018 could be another strong year for the chipset business as it launches Snapdragon 845 and expands its ARM chips into automotive, IoT (Internet of Things), servers, and PCs (personal computers).
Article continues below advertisement
However, issues from Apple (AAPL) could continue to hamper Qualcomm's licensing business. The licensing revenue could increase significantly only if the outcome of the dispute is in Qualcomm's favor. If the ruling is in Apple's favor, Qualcomm's licensing revenue would remain unchanged or fall in fiscal 2018 since Apple could switch to Intel (INTC).
Wall Street analysts expect Qualcomm's revenue to fall 1% YoY to $22.9 billion in fiscal 2018.
QCOM+NXP revenue in 2018
Qualcomm is looking to mitigate the impact of its legal headwinds and increase its exposure in the fast-growing automotive market through the acquisition of NXP Semiconductors (NXPI). The merger would add $10 billion to Qualcomm's revenue, and the combined company would have an annual revenue of $33 billion.
Although the merger has secured most regulatory approvals, the deal is in the doldrums since NXP's activist shareholders are unwilling to sell their shares at Qualcomm's original offer price of $110.
Article continues below advertisement
AVGO+QCOM+NXP revenue in 2018
Broadcom (AVGO) is looking to acquire Qualcomm and has made a hostile bid of $103 billion. Although there are many hurdles in this takeover, we can't rule out the possibility of the acquisition completing successfully. If both acquisitions go through, the combination of the trio would have annual revenue of $51 billion, making it the third-largest semiconductor company after Intel and Samsung.
AVGO+QCOM revenue in 2018
If the NXP deal doesn't happen and Broadcom succeeds in acquiring Qualcomm, the combined company would have an annual revenue of $43.8 billion.
However, Qualcomm probably won't be acquired by Broadcom without a fight. Qualcomm is using all its might to prevent the acquisition from happening. If Qualcomm finds that it has no option but to be acquired, its board of directors could try to get a better price from Broadcom.
Next, we'll look at Qualcomm's profits under various scenarios.