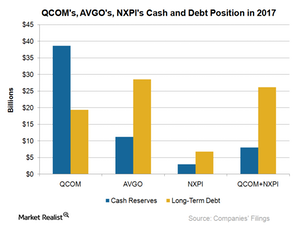 Qualcomm, NXP, and Broadcom: Their Cash and Debt Positions
By Puja Tayal

Updated
Qualcomm's cash and debt positions
Qualcomm (QCOM) has always been a cash-rich company, operating in a net cash position where cash reserves are higher than long-term debt. However, that could change if the company succeeds in acquiring NXP Semiconductors (NXPI).
At the end of fiscal 2017, Qualcomm had a net cash position of $16.8 billion, with $38.6 billion in cash and $21.8 billion in long-term debt. It raised $11 billion in new debt to fund the NXP acquisition. In a recent note to investors, the company stated that it would do a large share buyback if the NXP deal doesn't go through.
Article continues below advertisement
NXP
On the other hand, NXP has been reducing its debt by selling off non-core assets. It reduced its long-term debt by $3 billion in the last year. It now has a long-term debt of $6.75 billion and a cash reserve of $3.0 billion resulting in a net debt position of $3.75 billion.
As NXP's finances improve, the company's activist shareholders are demanding a higher price from Qualcomm.
QCOM+NXP
If Qualcomm succeeds in securing NXP at the price of $38 billion, excluding NXP's debt, the combined company would have cash reserves of $8 billion and long-term debt of $30 billion. The debt would include Qualcomm's existing debt of $10 billion, new debt of $11 billion, and NXP's debt of $8.7 billion.
However, the combined company plans to deleverage itself to pre-acquisition levels within two years without making changes to its shareholder returns program. That level could be possible since the combined company would generate annual FCF (free cash flow) of $6 billion. Restructuring, cost synergies, and revenue growth could further boost cash flows.
Broadcom
Broadcom (AVGO) has a net debt position of $17.3 billion since it funded the semiconductor industry's second-largest acquisition of Broadcom for $37 billion in 2016 and then a small acquisition of Brocade Communications in 2017. Broadcom has an appetite to make the technology industry's biggest acquisition of $103 billion, excluding debt.
It is too early to analyze how Broadcom's proposed acquisition of Qualcomm would impact the former's balance sheet since it is a hostile bid and has already been opposed by Qualcomm.