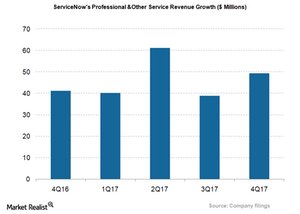 Professional Services Revenue Growth Looks Strong for ServiceNow
By Aaron Hemsworth

Updated
What's driving the segmental revenue?
In 4Q17, ServiceNow's (NOW) Professional Services and Other segment posted $49.1 million in revenues, a 19.7% increase YoY (year-over-year). However, after adjusting for the impact of foreign exchange, these revenues grew 16.0% to $47.6 million.
For fiscal 2017, these segmental revenues witnessed 14.0% YoY improvement to $192.3 million on a constant currency basis.
In the graph above, we can see the Professional Services and Other segment's revenue growth in the last five quarters. During the period it grew at a CAGR[1. compound annual growth rate] of 4.6%.
ServiceNow's Professional Services business included fees related to the implementation and configuration of its subscription service. This segment witnessed ongoing growth that was driven by the success of its Subscription business.
An increasing trend of digital transitions within global enterprises, as well as the procurement of more orders in 4Q17, led to growth in its Professional Services revenues.
The company's Other revenues are related to fees for customer training delivered on-site or in publicly available classes, attendance, and sponsorship fees for the annual Knowledge User conference and other customer forums.
Article continues below advertisement
Contribution of Professional Services segment
ServiceNow's 4Q17 billings from the Professional Services segment came in at $48.7 million, down 4.0% YoY on a constant currency basis. For fiscal 2018, its billings reached $194.7 million, up 8.0% YoY.
The contribution of the Professional Services and Other segment is a smaller part of the company's overall revenues than its Subscriptions segment. However, it adds significant value to its clients by providing needed maintenance support.