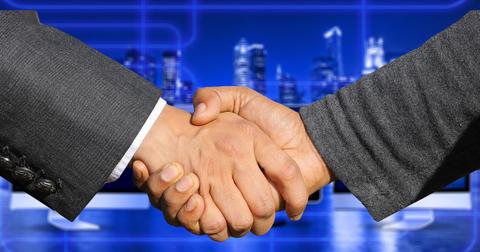 Privately Held Albertsons Companies to Merge with Rite Aid
By Sonya Bells

Updated
Albertsons merges with Rite Aid
The privately held Albertsons Companies, one of America's leading grocery chains, announced its merger with drugstore chain Rite Aid (RAD) on February 20, 2018. The deal includes that part of Rite Aid that hasn't already been sold to Walgreens.
Rite Aid agreed to sell 1,932 stores and three distribution centers to Walgreens Boots Alliance (WBA) in September 2017.
Article continues below advertisement
About the combined company
On a pro forma basis, the combined company is expected to generate $83.0 billion in total revenues in its first year and adjusted pro forma EBITDA[1. earnings before interest, tax, depreciation, and amortization] of ~$3.7 billion (including run rate cost synergies).
The combined company is expected to generate cost synergies of $375.0 million in the three years after the deal is closed. About 60.0% of these synergies would be realized within the first two years. According to the Wall Street Journal, the two companies are expected to have a combined value of $24.0 billion, including debt.
Terms of the agreement
Rite Aid (RAD) shareholders can choose to receive either one share of Albertsons stock and $1.83 in cash or 1.079 shares of Albertsons stock for every ten shares of Rite Aid.
As a result, shareholders of Albertsons stock would hold a 70.4%–72.0% stake in the combined company, while Rite Aid's shareholders would own between 28.0%–29.6% of the company.
Once the deal is closed, Albertsons Companies stock is expected to trade on the New York Stock Exchange. The deal has yet to receive approval from Rite Aid's shareholders and regulatory authorities. Rite Aid stock was up 230.0% in the pre-market session on Tuesday, February 20.
What management has to say about the deal
Rite Aid's current chairman and CEO, John Standley, will serve as the CEO of the new company. Albertsons' current CEO, Bob Miller, will serve as the chairman of the combined company.
Standley noted on Tuesday, February 20, "This powerful combination enables us to become a truly differentiated leader in delivering value, choice, and flexibility to meet customers' evolving food, health, and wellness needs."
Miller noted, "We have always put our customers first, and our combination with Rite Aid will enable us to even better serve the valuable pharmacy customer by providing a fully integrated one-stop-shop for our customers' food, health, and wellness needs."