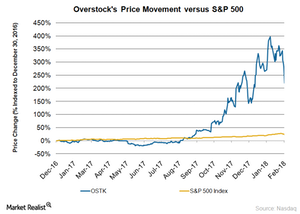 Overstock Acquires 24% Stake in StockCross
By Victoria Dean

Feb. 5 2018, Updated 2:50 p.m. ET
Acquires 24% stake in StockCross
Online retailer Overstock (OSTK) acquired a 24% stake in StockCross Financial Services through its subsidiary, tZERO, for $12 million on February 2, 2018. That day, Overstock's stock price fell 16% as bitcoin prices crashed to below $8,000. The frenzy surrounding bitcoin and blockchain helped Overstock post a 265.1% gain in 2017. In comparison, the S&P 500 rose 19.4%. Overstock stock had fallen 12.4% this year as of February 2, 2018, while the S&P 500 had risen 3.3%.
Article continues below advertisement
This year hasn't started well for cryptocurrencies. News of a regulatory clampdown in India, China, and South Korea, along with a South Korean bitcoin exchange filing for bankruptcy, have caused cryptocurrency prices to fall. Moreover, Facebook (FB) has decided not to promote binary options and cryptocurrency ads, to restrict "scammers" from profiting at the social media giant's expense. Even legendary investor Warren Buffet has advised staying away from cryptocurrencies, adding to the negative sentiment toward cryptocurrencies.
Rationale behind the StockCross stake buyout
In a press release, Overstock stated that the stake buyout would add "clearing functionality" to the tZERO ecosystem. tZERO is an SEC[1.Securities and Exchange Commission]-compliant ATS (alternative trading system) deploying blockchain solutions to bring down financial transaction costs and make capital markets more transparent.
Overstock considers the blending of clearing capacity a much-needed function to boost tZERO's capability as an ATS, especially after floating its $250 million initial coin offering in December 2018. StockCross, which is FINRA[2.Financial Industry Regulatory Authority] affiliated, acts as a self-clearing company for customer investment options, fixed income securities, and more.
tZERO will also get 1.2 million shares in Siebert Financial (SIEB) as part of the stake acquisition. Overstock, through tZERO, now holds 5.3% of Siebert Financial and 1% of Siebert Financial's parent company, Kennedy Cabot.