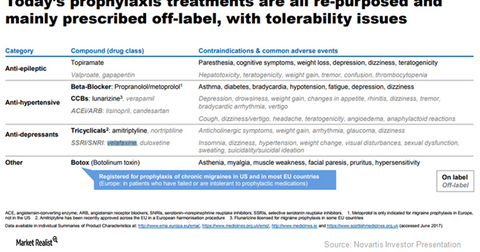 Novartis Expects FDA and EMA Approvals for Aimovig in 2018
By Margaret Patrick

Updated
Aimovig market opportunity
Aimovig, which is Novartis's (NVS) investigational migraine prophylaxis therapy, is currently under review by the FDA and the European Medicines Agency (or EMA). This anti-CGRP therapy is expected to be launched commercially in the US and the EU in 2018.
More than 10.0% of the adults in the world suffer from migraine. Globally, this condition is among the leading reasons for disability around the world, and it's the fourth-ranking cause of disability in women. The prevalence of this disease is greatest in adults in the age group of 30 to 39 years.
The Migraine Research Foundation estimated that the overall costs attributable to migraine due to lost productivity and healthcare expenses are ~$36.0 billion annually. The projected annual cost of migraine in Europe is ~27.0 billion euros.
Article continues below advertisement
Unmet demand
The chart above shows how the existing treatment options are lacking in migraine prophylaxis. More than 75% of chronic migraine patients opt out of treatment within six months of initiation of therapy. In the absence of effective prophylaxis, patients may also overuse acute pain drugs, resulting in medication overuse headache.
Owing to common adverse events and tolerance issues reported for existing migraine prophylaxis therapies such as Allergan's (AGN) Botox, Johnson & Johnson's (JNJ) Topamax, and Pfizer's (PFE) Effexor, prescribers are expected to shift migraine patients to Aimovig.
In the final article of this series, we'll discuss clinical trial data for Aimovig.